When choosing and installing an access control system for your St. Louis Metro Area commercial business, you will find obvious similarities, but depending on your security needs, building size and configuration, number of entry points and sensitive areas in critical need of protection, and the number of employees, one size definitely does not fit all. An access control system for a retail store or other heavily trafficked public space will necessitate far different security features than an access control system for a multifamily apartment building.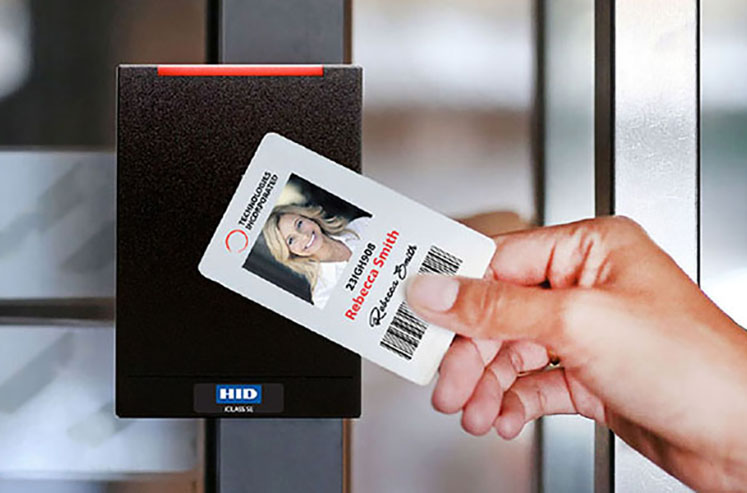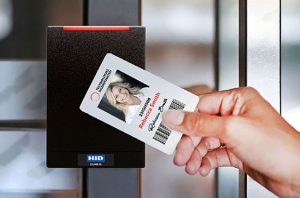 At its most basic level, a physical access control system is designed to:
Allow or block access to entry points, specific areas of your complex, a specific building or areas within a building–even individual offices–and yes, parking garages.
Identify who has access and who does not. (Now you'll find out who your friends really are.)
And what time or day or night certain individuals are allowed or denied access to your building.
Much like choosing a video surveillance security camera system for your business, deciding which access control system checks all the boxes for your business generally depends on the configuration of your building(s), your industry or business type, and who you intend to allow access to or block access from. We'll jump into these details in a minute.
Industries we serve and install commercial access control security systems:
Schools
Multifamily housing (apartments)
Banks
Industrial businesses
Credit unions
Medical records companies
Hospitals and other healthcare or medical offices
Law enforcement buildings
Government agencies
Insurance companies
Law offices
Intelligence agencies
Medical records companies
Data agencies
Investment firms
And more
Access control systems, also known as – keyless access control systems, keyless door entry lock systems, key fob entry systems, keypad door systems, keypad door locking system, and electronic door lock system. No matter the terminology, each of the four major access control systems we'll be discussing here are designed for customization to fit the needs of individual businesses and desired level of security.
Four different types of access control systems for commercial buildings and businesses:
ROLE-BASED ACCESS CONTROL
If you've been doing your homework and Googling best access control system for businesses you may have seen this system's popular acronym (RBAC). Role-based systems designate specific administrators to assign user permissions according to an individual's role, title, group or department they belong to or work within: senior managers, HR personnel, maintenance, C-suite decision makers, customer service, shipping area, etc.
RULE-BASED ACCESS CONTROL
Often, this is an add-on feature to finetune even further who has access, when and where. The distinction between role-based vs. rule-based access control may seem fuzzy at first, but the distinction straightforward: rule-based access control sets parameters for the exact times a person has access, which buildings or building areas they have access to.
For instance, in a multifamily apartment access control system the property management naturally allows tenants access to the fitness room or package delivery room, but not to the maintenance or utility rooms.
In an office building, certain employees, for whatever reason, may not be allowed back into the building after closing, say 5 pm. A rule based access control system allows you to block specific an individual's access, even managers, from entering or reentering the building after or before certain times. Maybe you would rather not have employees aimlessly wandering the halls afterhours or dashing off hundreds of copies of their grade-schooler's art project drawing. For whatever reason, you have that control. But, since you do like your building spick-and-span when you arrive in the morning, you allow members of the cleaning crew access to the building(s) anytime after 5 pm, but only after 5 pm, and even they may be restrict to specific areas of the building: HR where sensitive documents are kept, the president's office. You get the idea.
DISCRETIONARY ACCESS CONTROL (DAC)
DAC systems are not necessarily designed to recognize a person's individual role, title or group they belong to, but rather, it allows on-site property managers or owners the ability to log onto a dashboard and assign user permissions as they find necessary. Its moniker comes from the discretionary choice of the administrators who manage the system to either allow or not allow access to certain individuals. Those lucky individuals who are allowed access must first land a position on the company's official authorized "list," the naughty-or-nice list, so to speak. So each time a security access card or key fob is swiped, a PIN is punched into the keypad, or a fingerprint is scanned, the system cross-checks that person's credentials against the "list" and then allows or denies access based on the allowances set by the administrator.
Discretionary access control systems are typically considered the most flexible, but they are also sometimes viewed as the least secure when compared to other access control systems, particularly compared to a mandatory access control system. Generally, companies choosing a DAC access control system still need a certain level of security, but they also want simplicity of operation and flexibility.
MANDATORY ACCESS CONTROL (MAC)
A mandatory access control security system typically uses an off-site, designated authority to manage access. As you might expect, mandatory access control systems are considered the most secure, limiting access on an individual basis, rather than by group or role. Each person is assigned a specific level of access, area of access, or time of access, defined by the system manager. It covers EVERYTHING.
This access control system makes for a yin and yang scenario though: that is, the larger the company, the more difficult it can be to manage this security system, but at the same time, it is also considered the most secure.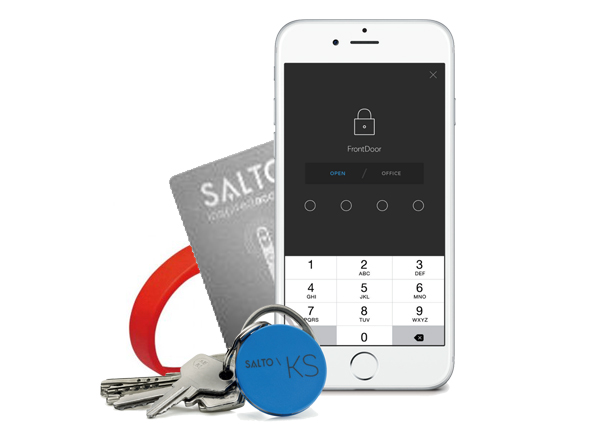 Access Control Manufacturers
PASS Security technicians primarily install one of two of the security industry's top commercial access control systems, dependent on the type of business, its desired level of security and system features.
Alarm.com and Salto offer two of the best professional-grade access control systems in the industry. We have installed Alarm.com access control systems in schools, retail shops, banks, manufacturing plants, and more. Salto is also used for the same business categories but in addition, Salto is generally our go-to when installing access control systems in multifamily apartment buildings or complexes.
Salto is driven by a friendly operational software which integrates fluidly with many of the most popular multifamily management software systems used by property managers, ranging from market-rate apartments to Class-A luxury multi-family units. You can learn more about our access control systems for multi-family apartments here.
Get a FREE Quote for an access control system for a new installation or replacing an existing system. A PASS Security specialist will meet with you, evaluate your needs and make the best recommendations to secure your business and ensure the safety of your employees, customers or tenants.
Contact us today to schedule a FREE ACCESS CONTROL SYSTEM consultation in the St. Louis Metro Area, Central and Southern Illinois. Call 314-241-0422 or 618-394-1144.
Founded in 1969, PASS Security is headquartered in St. Louis, MO. and Fairview Heights, IL. We are a full-service electronic security systems integrator providing expertise in intrusion detection, video surveillance, access control systems, LIVE video monitoring for businesses, large commercial and enterprise operations. PASS also serves the residential sector with innovative SMART home automation products and services. We provide our customers with system design, engineering, installation, maintenance and monitoring services through our 24/7 local UL Listed Central Monitoring Station.
More Great Security Tips for Your Business