One look at this jaw-dropping neighborhood crime map pinpointing the incredible number of various crimes reported in the City of St. Louis, approximately between March 9 and April 10, 2022, it's no wonder the first ten minutes of every St. Louis TV news broadcast is an exhaustive rundown of violent shootings, car break-ins and robberies. Home and commercial building fires also share screen time.
But the crimes identified on this crime map are only the tip of the iceberg. Many crimes go unreported to the St. Louis Metropolitan Police Department, for various reasons, and dozens more never make the news. There simply isn't enough broadcast time or news staff resources to report every crime. And frankly, it would be too depressing to sit through.
It's no secret St. Louis City has a nationally recognized crime problem, especially murders. Our city typically jockeys with Detroit, Atlanta and other record-setting, violent metro areas for first place in murders.
Crime Map Tells the Story
The St. Louis City crime map below, is hosted and managed by CITYPROTECT, their link can be found on the St. Louis Metropolitan Police Department's website. It is accurate and detailed enough to serve as a neighborhood or community crime map, even identifying individual streets and the hundred blocks, but it does not identify individual home or business addresses.
Category Breakdown of Reported St. Louis City Crimes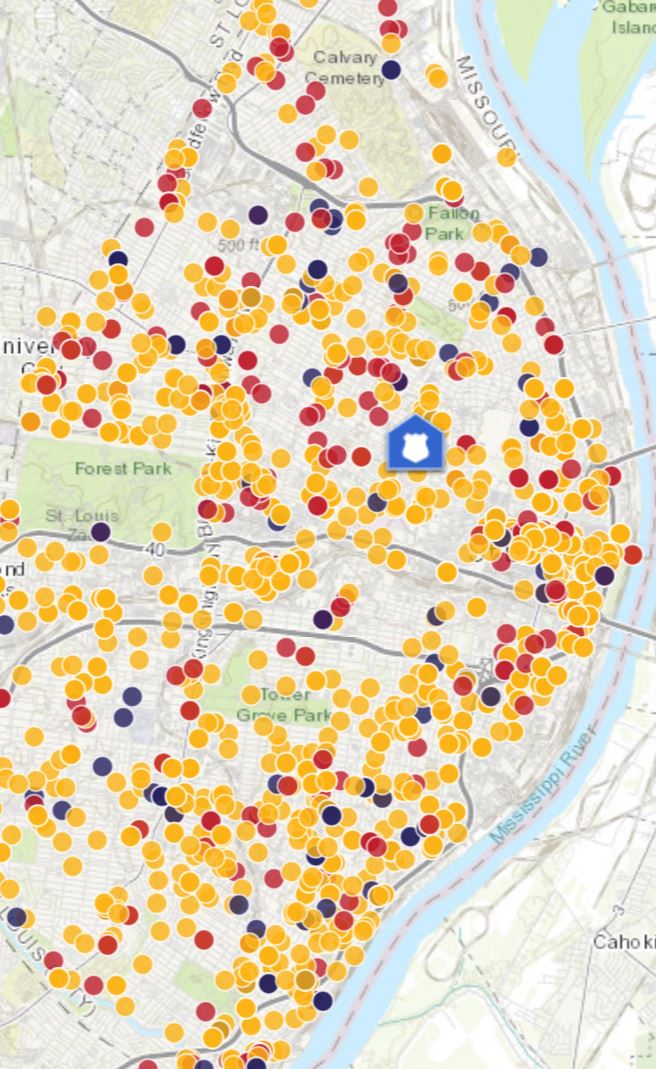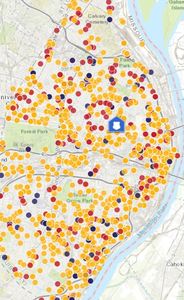 Collectively, the dots on this crime map represent all crimes that were actually reported to the STLMPD within the timeframe mentioned above. But this does not mean the map represents all crimes that actually occurred. Red dots pinpoint incidents of serious violent crimes: physical assaults, homicides, kidnappings, sexual assaults and robberies. Black dots (dark blue) are categorized as minor infractions: disorderly disturbances, drug and liquor related incidents. These are considered "quality of life" incidents. Not sure what that really means. While the yellowish dots are crimes mostly against residential and business properties: breaking and entering, acts of vandalism, along with vehicle thefts and break-ins (smash-and-dash incidents) which have escalated so much so over the last year they might as well have their own map.
In previous blogs, we've covered several of these smash-and-dash vehicle crime stories, such as the gang-organized car break-ins at the Amazon shipping center in St. Peters, MO., and when St. Louis Blues fans, upon exiting the Enterprise Center after a rollicking Blues victory, were greeted by scattered broken glass strewn across nearby public parking lots where their car and truck windows had been hastily smashed out and their personal valuables stolen, everything from cash to electronics, to firearms. Fortunately, some of these incidents have been caught on security  surveillance video, while many have not simply because most commercial businesses do not have security cameras watching over employee and customer parking areas. Unfortunate, but true.
Because of the lack of business security cameras, valuable visual evidence cannot be made available that could be helpful in identifying and prosecuting destructive, but otherwise, very resourceful and successful, criminals.
The Damaging Effects of Escalating Crime in St. Louis City
The reality is, since the early 70s downtown St. Louis has rolled up its sidewalks at the end of the business day, workers scattering back to the sanctuary of the suburbs. But the mood began shifting in the early 90s, fueled largely by forward-thinking property developers and builders strategically transforming abandoned brick factory buildings and long-vacated hotels along Washington Ave., Locust Street and Tucker Blvd. into upscale multi-family condos, apartments and luxury lofts, replete with all the modern amenities. Developers became Pied Pipers, leading adventurous young hipsters and aging empty-nesters back into the city. The era of regentrification.
This in turn encouraged risk-taking restaurateurs to gamble their fortunes on stylish eateries and retail entrepreneurs to open funky little shops and grocery markets. The positive vibe was so contagious that even a movie theater and bowling alley sprang up on Washington Ave., and all were drawing crowds. St. Louis was recreating itself, for the better, and money was flowing back into the city.
But as more and more affluent people took up residence in downtown and suburbanites began "clubbing" at various nightspots, like moths to a flame, criminals smelled opportunity and moved in, driving patrons from businesses who feared being accosted and reluctant to linger too long after dark.
The escalating violence, including shootings right outside of the city police department, has had a negative effect on the city's multi-family housing movement as well, with some newbie city dwellers fleeing back to the suburbs. (See this Fox 2 Now news report about recent car break-ins in downtown St. Louis and an interview with a resident who is questioning whether or not to stay downtown.) No surprise, a person can only take so many sleepless nights punctuated with screeching car alarms, rowdy party crowds, high-speed drag racing on the streets, shootings on the sidewalks of Washington Avenue, and increasing murders and sexual assaults.
Business owners and multi-family property managers are scrambling for solutions to protect their investments, customers, tenets and employees. The St. Louis Police Department has dramatically increased its use of video surveillance security cameras throughout all parts of the city, and some business owners are following suit.
County Suburbs Not Immune to Rising Crime
Don't get the impression crime is the exclusive ownership of the City of St. Louis. Recent published police reports by South and West County municipal police departments show that the suburbs are no longer as isolated from crime as they once were.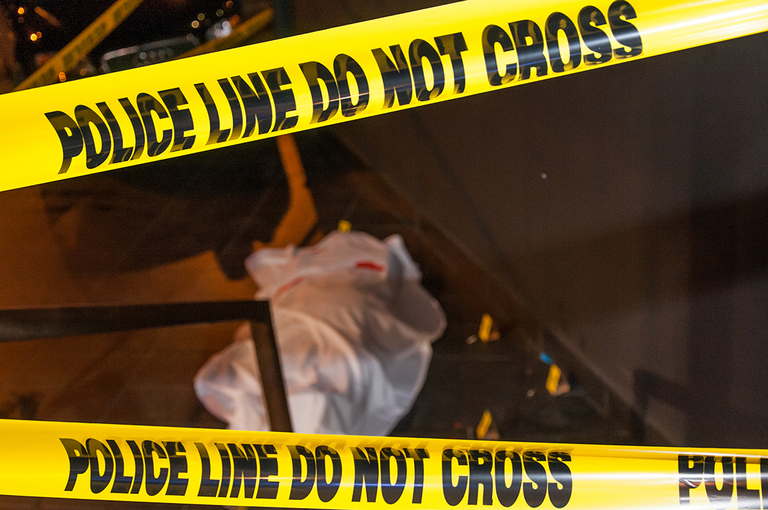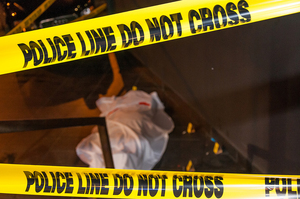 Police reports involving individual and organized gang-style vehicle break-ins in the parking lots of popular county gathering places like neighborhood bowling alleys, restaurants, shopping centers and of course residential neighborhoods, are on a dramatic uptick.
It seems no individual or neighborhood is immune these days.
If Your Business is Not Fully Secured, You Are Vulnerable
Not every business can afford to hire a security guard, and security guards can only be in one place at one time, and they do take potty breaks and call in sick. Not to mention a security guard's eyewitness account of a crime, or anyone's eyewitness account for that matter, carries less weight and validity in the court of law than actual video surveillance footage captured by a security camera.
The best defense is a good offense, and in this case, that means installing a security camera video surveillance system at your business, preferably integrated with LIVE video monitoring so police can be dispatched in real time and catch the thieves instead of just looking at day-old video footage.
This is a good time to install, or update, your business access control system (also called a keyless entry door or card reader security system) at all key entry points at your commercial business building, the same for multi-family apartment complexes, including St. Louis City lofts and condos.
Taking these security measures is not paranoia, it's smart and should not be implemented only in the immediate St. Louis downtown area but in the Central West End, Old North St. Louis, Bevo, Benton Park, Tower Grove, St. Louis Hills, Compton Heights, The Grove neighborhood, Hyde Park, Soulard, and other popular neighborhoods where business owners are vulnerable.
Businesses and residential homes and apartments in the county also need to take the same crime prevention measures. When hiring a security company, be sure you hire a professional and reputable local security company to evaluate your needs and install a quality security system, one they can maintain and make software and camera updates as technologies advance.
National security companies don't have their finger on the pulse of our city and are not familiar with the different characteristics of our eclectic neighborhoods. Hire a local security company that is familiar with St. Louis and surrounding Illinois communities: Belleville, Alton, Collinsville, Bethalto, Fairview Heights, O'Fallon, Granite City, Swansea, and others.
As grandma was fond of saying, "an ounce of prevention is worth a pound of cure."
Contact us today to schedule a FREE SECURITY SYSTEM consultation in the St. Louis Metro Area, Central and Southern Illinois. Call 314-241-0422 or 618-394-1144 or Email Us.
Founded in 1969, PASS Security is headquartered in St. Louis, MO. and Fairview Heights, IL. We are a full-service electronic security systems integrator providing expertise in intrusion detection, video surveillance, access control systems, LIVE video monitoring for businesses, large commercial and enterprise operations. PASS also serves the residential sector with innovative SMART home automation products and services. We provide our customers with system design, engineering, installation, maintenance and monitoring services through our 24/7 local UL Listed Central Monitoring Station.
More Great Security Tips for Your Business