Remote Security Cameras for St. Louis & Illinois Construction Sites
24/7 Monitoring. Live Video Viewing on Your Phone. Alarm Text Alerts. Police Dispatch.
Protect Jobsites with Wireless, Remote Security Cameras & Solar Powered Mobile Security Camera Trailers.
Stop Construction Site Theft and Vandalism
with 24/7 Security Cameras
Protect Your Construction Site with our Rugged Solar Mobile Surveillance
Security Camera Trailers and Remote Pole Cameras
St. Louis and Illinois Metro East construction sites are a hotbed for theft. Unfortunately, the situation is only worsening. Since 1969 PASS Security has been the leader in security camera surveillance for construction sites. We know the construction industry and your needs.
You need a wireless surveillance security camera system that has a visual presence to deter criminals, withstands the brutal heat and cold, deploys easily, operates on simple AC power or no power at all, and feeds live video footage for remote viewing on your phone or PC.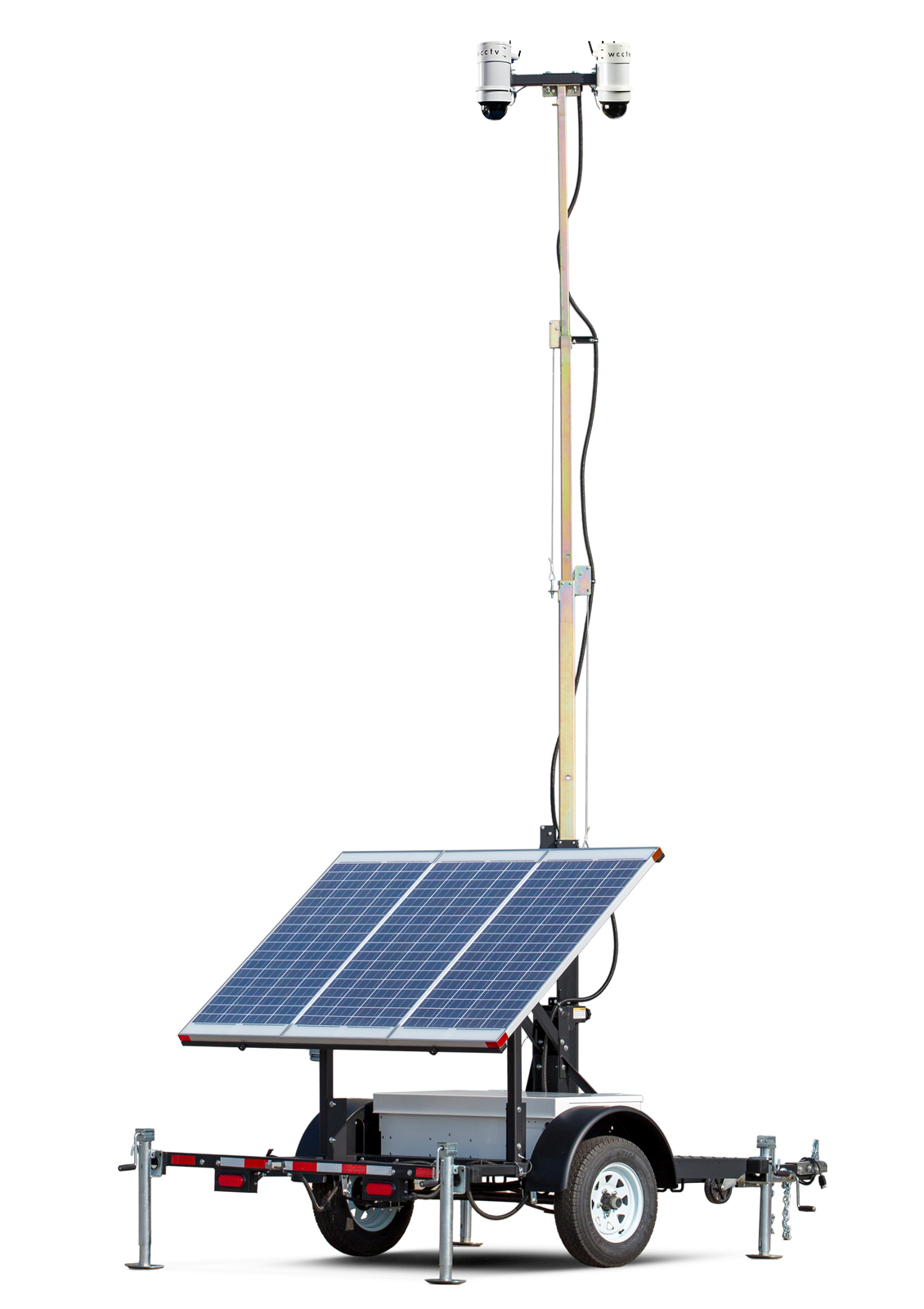 Mobile Solar Powered Wireless Security Camera Trailer
Security Camera Trailer Features – Available for Rent or Purchase
1-4, Wireless PTZ Security Cameras

Up to 4 TB Sold State Edge Recording
24/7 Live Monitoring Option
Email and Text Alerts
High-Speed 4G & WIFI Video
20 ft. Camera Telescopic Camera Tower
Variable Wattage Solar Power Options
Variable Amperage Backup Battery Options
Low Power Consumption
Silent Operation
Video Analytics Capabilities
Easy to Transport, Rapid Deployment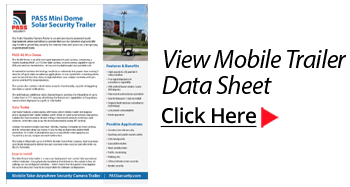 What Customers Are Saying About Our Mobile Trailers…
"During an 18-month construction project at the Art Museum, PASS Security's mobile security trailer significantly reduced construction theft on our 15-acre site in Houston, Texas. In addition, the combined remote monitoring and advanced technology-assisted construction site management operationally by proactively notifying management of unplanned staff on-site surprises. Camera analytics thermal technology and its robust design made all the difference compared to other systems we've used." 
Brian Evetts, CEO Promontory Insights
Protect What is Rightfully Yours. Get a FREE Site Evaluation.
Call, email or submit a request for your FREE Jobsite Security Evaluation. We'll bring our own hardhat.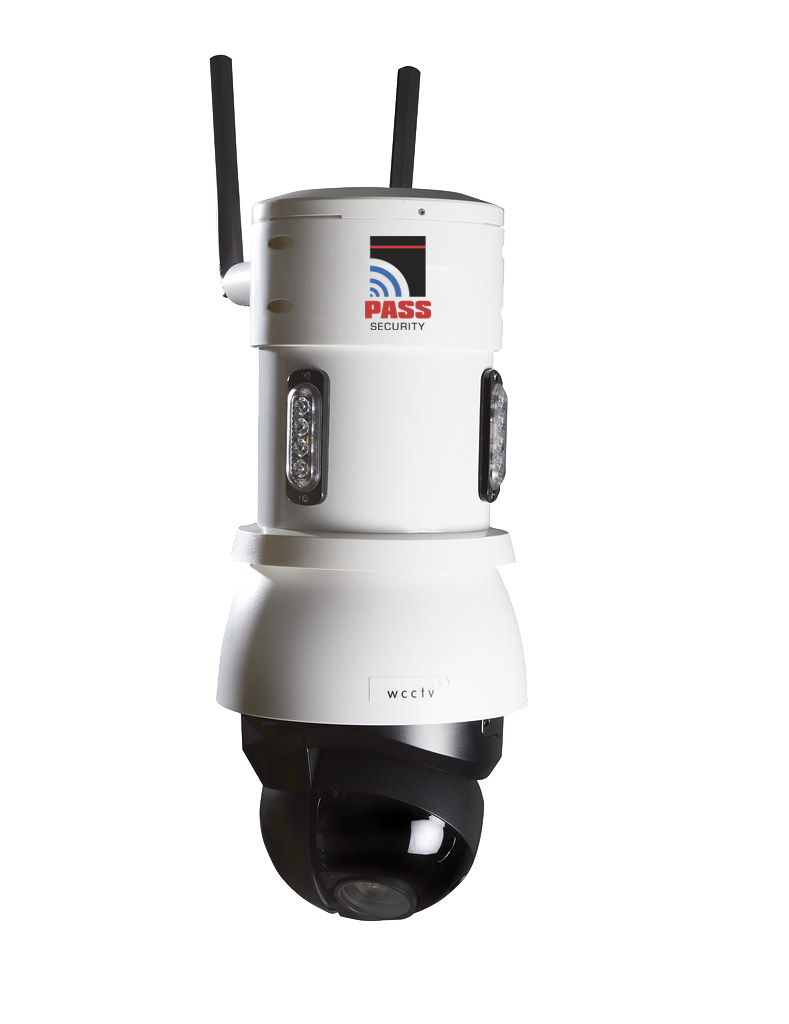 Portable Wireless Pole Cameras
PASS Security's mobile IR rapid deployment surveillance security pole cameras are specifically designed for off-the-grid, remote video surveillance applications, perfectly suited for construction job sites.
Security Pole Camera Features – Available for Rent or Purchase
High-Definition Video (up to 1080p)
24/7 Remote Live Monitoring Option
Email & Text Alerts
4G LTE 3G WiFi & IP Connectivity
Easy to Install & Maintain
Can be Configured Remotely
Up to 4TB Internal Storage
2MP Day/Night/IR Camera
High-Speed Live Streaming – Up to 25
FPS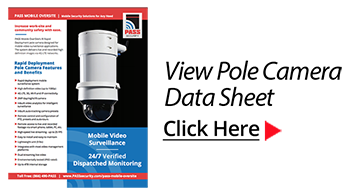 Get 24 Hour Video Surveillance Security
Much less expensive than security guards
Can be monitored LIVE 24/7
Police Dispatch availability
Appearance detection minimizes false alarms
View video on your phone
Get text alerts if alarm is triggered
Additional Business Security Solutions We Offer
Industries We Protect
We understand that each industry and business is unique. This is why we take the time to meet with our customers face to face, discuss their security concerns and conduct a site evaluation. Security technology is constantly evolving and improving, so communicating to you the benefits and options of different security components is critical. We are more than your business security provider, we are your security partner.