With each new year comes a feeling of hope and renewal. An opportunity for us to hit the reset button, assess where we are, who we are, and take a fresh look at the year ahead and what we want to accomplish.
For most of us this typically means making a list of personal goals, or as we call them this time of year, resolutions. The list usually includes a renewed vigilance to lose weight, exercise more, watch less TV, spend more quality time with family…and clean out the garage.
If you're a business owner though, you probably have a second list of resolutions for the new year. That could be adopting new hiring practices to ensure longer tenure of new hires, or increasing gross sales by a magical percentage, or making sure that this year's company Christmas party does not include an open bar and a pinyata. Ugly.
That said, we'll leave the lofty aspirations for another day and concentrate on the practical, the positive and the doable. We're talking about evaluating and updating your company's security system. Not cyber security system, although that shouldn't be ignored either, but your electronic security system: video surveillance cameras, access control and smart automation utility controls. We understand, it's not the sexiest item on the resolution list and may even rank lower than increasing market share, but with the advancement of technology in security equipment, yesterday's security systems cannot be compared to today's, so it is critical to keep up with the changing times so your system does become a dinosaur and fossilize.
Look at it this way, remember when 4K televisions first hit the market? You probably thought, "Who needs 4K TV? It's only television." Fast forward a few years and it's almost a sure bet that you now have a 55 inch, 4K flat screen in your living room, den, basement or all three. Don't feel guilty, it's these lifestyle "improvements" that give us a feeling of accomplishment and fulfillment. Yes, even if it's just a 55 inch, flat-screen, 4K TV.
But your company's security system is a different story. This is critical because an optimized security system means protecting valuable inventory from theft, property from vandalism, but also gives you the convenient ability to control who has access to your business. But most importantly, who does not. These powerful means of control bring peace of mind, save time and money.
And it's not just the cameras and other hardware, but also the continuous advancements in software behind the hardware that drive the need to update and adapt. You cannot see the software, so it's typically out of mind, but just as security surveillance cameras advance in sophistication, so does software, the brains of the operation.
Having a security professional evaluate your security hardware and software will ensure your security system is fully optimized and doing its job—protecting your business, your investment, your retirement.
So, without further ado, as promised, here are the six top reasons to update your commercial business security system in the new year.
 The 6 Top Reasons to Update Your Business Security System
 1) Smart Camera Integration
Smart video surveillance cameras not only record and store visual information, but when integrated with an alarm system, you will be able to see all activity on your smart phone or computer, giving you the ability to eavesdrop on your own business, customers and employees. A fly on the wall. You can also recruit with a professional security monitoring station to verify suspicious activity and dispatch the police or on-site security personnel in real time to mitigate theft or vandalism.
Some smart camera platforms can even distinguish between regular activity and unusual activity that may be out of normal routine and considered suspicious. Avigilon offers video surveillance security cameras and software with these advanced capabilities.
 2) Security System Remote Control – From Anywhere
To take the example above a step further, with a smart system you can also control your system from your office, home, car or anywhere, via the internet and a smart phone app or website. This means you can check your cameras "health" to make sure they are operating correctly (cameras are not infallible). You can also turn off the alarm system even before arriving at work so rushing to disarm it is a thing of the past. Go get a coffee instead and settle in for the day. Pretty cool. Alarm.com offers many options for smart security system integrations for commercial businesses.
 3) Access Control Solutions
A smart alarm system integrated with a keyless access control frees you from having to make extra keys for new employees or rekeying doors when they are inevitably lost. And they are always lost. Keyless access control gives you just that, control over who has access to your facilities and the convenient ability to quickly program swipe cards and key fobs with entry codes in just a matter of minutes, and they can be changed or erased just as easily.
What if you are running late to work and only you have a key? With a smart access control alarm system you can unlock doors and disarm your alarm system remotely from anywhere so employees can start work on time.
Taking the day off? With the smart access control alarm system you can easily configure it to send you an alert with a video clip when the doors are unlocked at the beginning of the day and when your employees close at night. This way you also have a visual record of the times your employees arrive and leave work.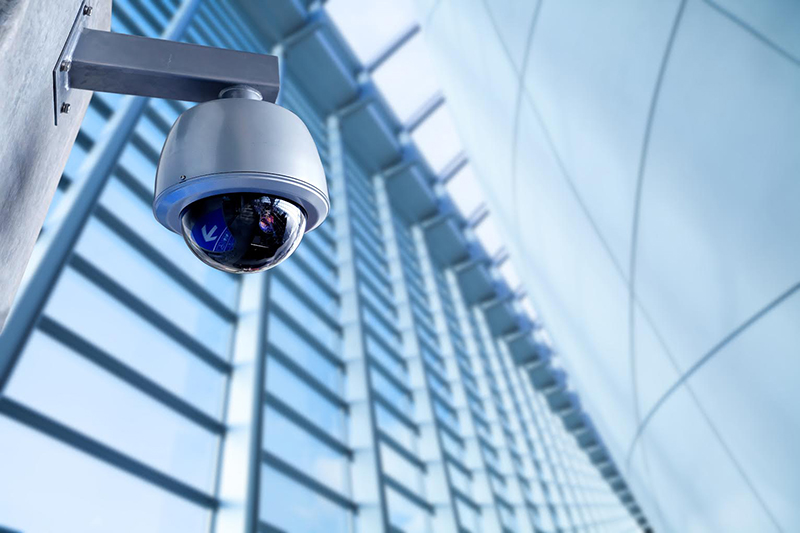 4) Smart Thermostat Does More Than Improve Energy Efficiency
Just like smart home automation systems, you can also program schedules for heating and cooling at your business and even get detailed energy reports. As commercial buildings adopt more and more energy-saving green technologies in the coming years, a smart thermostat for your business only makes sense.
And just like controlling your access control system and video surveillance cameras from a smart phone app connected to your smart wireless system, you can do the same with the thermostat and even monitor your entire HVAC system from your car or another city.
Beyond saving energy, smart thermostats also protect sensitive inventory. Restaurant owners will appreciate the value of having an efficient and reliable heating and cooling system to protect sensitive food inventory from spoiling; simply place a temperature sensor in the storeroom and walk away.
5) Smart Lights
Smart lights often get overlooked when reconfiguring and evaluating a commercial business security system. Just like the thermostat though, smart lights give the convenient ability to control the times your lights turn on and turn off, even remotely. You can even turn lights on and off from your phone app while you're in the building, saving the time and energy it takes to walk across a large warehouse or an elevator from the second to firth floor.
You can also program lights to trigger in response to an activity, such as when a door is opened so lights turn on automatically.
 Get Started Today
So, here's a toast to the new year and making good on your resolutions. Why not start by giving PASS Security a call today and one of our certified security experts will meet with you and evaluate your business security system and recommend time and energy-saving updates.
Make this year productive, profitable and safe!
Contact us today to schedule a FREE consultation and evaluation of your business security system in the St. Louis Metro Area, Central and Southern Illinois. 314-241-0422 or 618-394-1144 or Email Us.
More Great Security Tips for Your Business
Founded in 1969, PASS Security is headquartered in St. Louis, MO. and Fairview Heights, IL. We are a full-service electronic security systems integrator providing expertise in intrusion detection, video surveillance, access control systems, LIVE video monitoring for businesses, large commercial and enterprise operations. PASS also serves the residential sector with innovative SMART home automation products and services. We provide our customers with system design, engineering, installation, maintenance and monitoring services through our 24/7 local UL Listed Central Monitoring Station.