One of the most important components when implementing security systems for healthcare facilities involves developing a strategic plan for the video camera surveillance system. Doing so will save time and avoid wasting limited financial resources, and also help to accomplish your initial goal—protect people and property. That is what it all boils down to: protecting people and property.
Reports clearly show that illegal and even violent activity in hospitals and other physical healthcare operations has been on an upward trajectory in recent years. The COVID-19 pandemic, and now the more recent emergence of OMICRON, have added a new dimension to hospital security.
In response, hospital, healthcare clinic, urgent care facility and health care system decision makers around the country have increased boots-on-the-ground security personnel, security surveillance cameras and are also upgrading locks and access control systems to safeguard COVID-19 vaccine supplies, and monitor patient and staff activity in what has become an increasingly chaotic battlefield-like environment.
Protecting Your Healthcare Facility Against Lawsuits and Costly legal Complications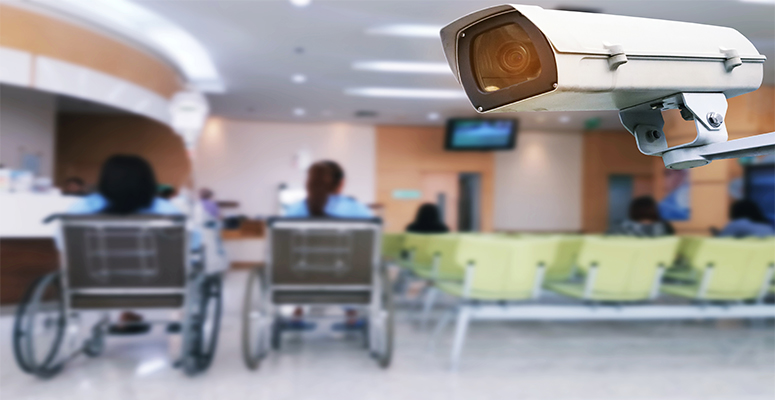 COVID aside, and under more "normal" circumstances, guarding against medication and medical equipment theft, patient and staff altercations, unruly visitors, and slip-and-fall insurance claims, it is imperative to have recorded video evidence of all activity within your healthcare facility for prosecution, legal and insurance purposes. All the better if you have a live security monitoring system that gives you real-time visual verification to which you can react immediately to mitigate security breaches and other disruptive activities.
Video surveillance security cameras and CCTV systems are only one security measure put in place when designing an integrated security system for your hospital. See our Healthcare Security page for additional options.
For instance, consider updating your access control system, and intrusion and fire alarm systems? Many hospitals are now replacing mechanical key locks with electronic locking systems to protect drug storage areas, employee lockers, sensitive HR and HIPPA-sensitive patient files.
Electronic locks track and record every interaction 24/7. Whenever someone inserts their electronic key into a lock it records who that person is, time they accessed the lock, and the total number of events in any given period for auditing purposes. This information is trackable and can be recalled at any time from an onsite or offsite computer. And if a key is lost or stolen, simply wipe its security clearance credentials from your system and issue a new electronic key.
Before contacting your commercial security services company to professionally install new security cameras or an access control system, take a moment to review your security system's strengths and weaknesses, you may find that what was once priority is now secondary, and security concerns that were not even on the list when the security system was installed are now priority.
Use our convenient checklist to help determine your security system needs.
Healthcare Security System Update List
Take an inventory of current security procedures and components. Does you healthcare facility have a comprehensive security emergency plan? Is it coordinated with local police departments? Do you know the number (quantity) and location of CCTV video surveillance security cameras in your hospital? Are they all operational? Do you have a patient video monitoring system? Access control systems for hospitals are critical and can include voice and video intercom systems, biometric security, and wall-mounted badge or card reader. Duress (panic) button systems and panic bars on exit doors are essential for hospitals, along with intrusion alarms for doors and windows.
Is your system software outdated? Security software and cameras have evolved remarkably over the last few years. If you have not updated your security system software recently, contact your professional security company about an evaluation and installation.
Speaking of which, when was your hospital security system last evaluated and tested? With the many technological advancements in security equipment, it is best practice to check your entire security system annually for potential updates or to address security issues that did not exist when the system was first installed.
Is your facility a multi-building campus or single structure? A sprawling campus with multiple buildings or multiple locations is a different animal than a single, solitary edifice. The more buildings, or the larger the building, the more complex will be your security system. It is imperative that you team with a reputable security company with experience designing and installing such systems, preferably a local security company so they react to your needs in a respectable amount of time and have a local reputation to protect. After all, you may give them a five-star Google Review for a job well done; an invaluable endorsement for any business owner.
Are there security guards or other security personnel on site? Many hospitals now employ full-time security personnel. We always encourage this if there is a clear need. But we have found that security guards cannot be in all places at all times and the cost of a full-time security staff, even one or two full-time guards, can be out of reach for many hospitals. Typically, our commercial security customers, in any industry, augment security guards with a variety of video surveillance cameras—bullet, dome, PTZ, license plate recognition, remote surveillance cameras—positioned strategically to cover hallways, loading areas, parking lots, emergency drop-off, maintenance facilities, storage rooms, etc.
Is there a history of break-ins or is the hospital or healthcare clinic in a high-crime area? The answer to this one should be obvious so there is no need to dwell. But it is critical to make a list of the frequency and type of security breaches on your premises. Are they violent or nonviolent in nature, are thefts attributable to staff or outsiders? It is important to track the types of crimes you've experienced in order to improve your professional security system where it needed most and which components will be used.
Do employees feel safe or have they expressed anxiety about lack of, or poor security? Candid conversations with staff will help evaluate not only what type of security measures need to be put in place, but where? Don't under estimate the importance of your staff's input when updating your security system.
Have costly insurance claims been an issue for the hospital? Often, all commercial businesses, including healthcare facilities, may be eligible for a premium insurance discounts once a state-of-the-art physical security system is installed. It will not necessarily offset the cost of past claims, but the added savings can soften the financial blow of when updating your security system. Check with your commercial insurance provider.
Is there a parking lot adjacent to the hospital or healthcare facility that would benefit from video surveillance security cameras? Parking lots are often overlooked when designing security systems for hospitals and other healthcare facilities. But they shouldn't be. Your staff and visitors are sometimes at their most vulnerable in dimly lit parking garages or parking lots. There are many security camera options for these areas though, including CCTV security cameras mounted on buildings, remote video surveillance cameras mounted on light poles located away from the main building, or mobile security camera trailers that can be placed virtually anywhere they are needed. Security trailer cameras operate on solar power but have a battery or gas generator backup power source if the solar panel cells are not capturing enough energy, during a long stretch of overcast winter days.
Are disgruntled employees, patients or residents considered a potential security threat? As any business owner knows all too well, this is not an uncommon scenario. If former employees, or in this case, unruly patients, are suspect, be vigilant about updating your access control and security alarm systems. Access control systems can be operated with a card swipe, key fob or mobile phone.
How to Hire a Security Company
Well, as you can see, there is plenty of preparation and homework to do before calling your local security company. First things first though, if your current security company has been less than attentive or are not living up to your expectations, Google search "best security companies near me" or "top local security companies" and make a short list of security companies in your area. Before contacting them, take a discerning look at their website for services offered but also for their BBB rating, Google Reviews or customer testimonials. You'll never determine if they're the "Best" security company in your area, that's an arbitrary call, but vetting them will ease your mind and also let them know that you have done your homework.
Now make a list of questions based on your needs and concerns and don't forget to ask for references. Of all the security companies in your city, more than likely only a handful are truly qualified to competently design, install and maintain a complex security system and give you the support you'll need down the road.
If your hospital or healthcare facility is in the St. Louis Metro Area, Fairview Heights, Belleville, or other surrounding Illinois communities, call PASS Security for a full evaluation of your healthcare security system. We work with a number of hospitals in the area, designing, stalling and maintaining security systems, and we would be more than happy to meet with you.
CONTACT US TODAY! to schedule a FREE consultation and evaluation of your hospital security system in the St. Louis Metro Area, Central and Southern Illinois. 314-241-0422 or 618-394-1144 or Email Us.
Access Control Security in the Age of COVID
Founded in 1969, PASS Security is headquartered in St. Louis, MO. and Fairview Heights, IL. We are a full-service electronic security systems integrator providing expertise in intrusion detection, video surveillance, access control systems, LIVE video monitoring for businesses, large commercial and enterprise operations. PASS also serves the residential sector with innovative SMART home automation products and services. We provide our customers with system design, engineering, installation, maintenance and monitoring services through our 24/7 local UL Listed Central Monitoring Station.