The demand for portable surveillance camera trailers has been increasing dramatically increasing in the St. Louis Metro Area over the last few years, but especially more recently because of the growing incidents of car smash-and-grab break-ins in St. Louis and Illinois area commercial business parking lots. In fact, we receive phone calls each week from area businesses wanting more information about the availability and cost of our mobile surveillance camera trailers.
Video surveillance trailers are in such hot demand because of their portability, security camera coverage area, ease of setup, and self-sustaining power consumption. Our security trailers are "fueled" by a collapsible solar power panel that tilts nearly 90 degrees, positioning directly towards the sun to optimize natural power consumption. These rugged surveillance trailers are also equipped with 12VDC AGM batteries for backup power in low-light conditions, which are securely housed in a tamper-resistant battery box.
Deployable in less than 30 minutes, their rugged construction and portability have made them the perfect camera surveillance choice for many of our large and small business clients requiring remote, mobile video surveillance capabilities, including law enforcement for crowd control, sporting and public events parking lots, mining operations, vulnerable school bus parking lots, storage facilities, critical infrastructure, and construction jobsites.
Mobile Security Trailers for Parking Lots
The placement of security camera trailers continues to increase in St. Louis and Illinois metro region parking lots to combat car break-ins at retail store malls, corporate business complexes, large shipping warehouses operating second and third shifts, and entertainment venues.
High-profile car smash-and-grab car thefts like the incident in parking lots across from theEnterprise Center, home of the Blues, and just down from Union Station and the St. Louis Aquarium, have become common occurrences in the St. Louis area, from West County communities like Wildwood and Chesterfield, to O'Fallon, Crestwood and the downtown area. Illinois communities like Edwardsville, Bethalto, Cahokia, O'Fallon and Fairview Heights have all reported multiple car break-ins at commercial business, retail store and entertain venue parking lots.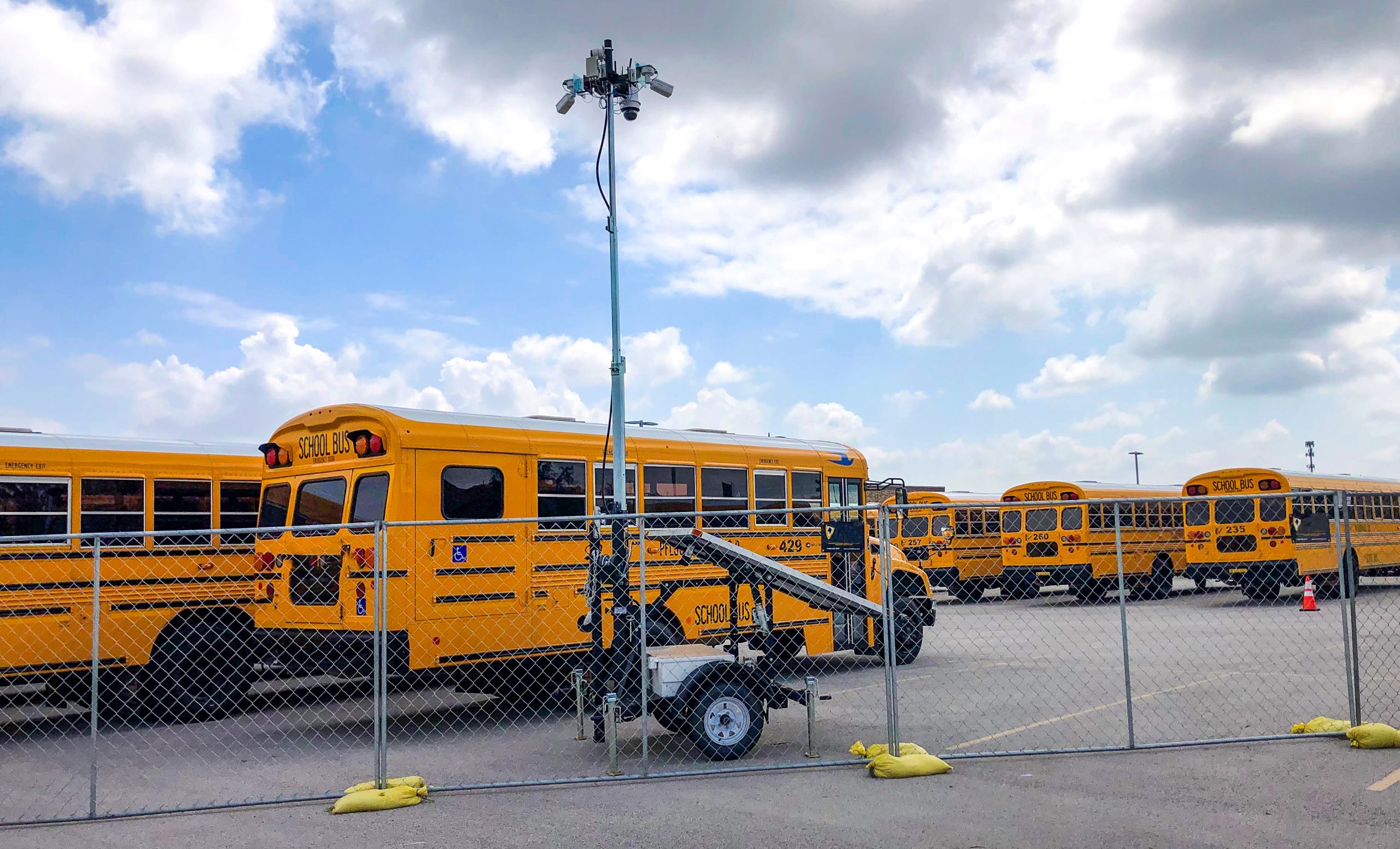 St. Louis Area Police Kept Busy with Increasing Car Break-ins
Fox 2 News reported the St. Peters Police Department was investigating the breaking-in of seventy-five cars in an Amazon shipping complex in St. Peter's just this week, and Maryland Heights Police Department reported several cars broken into in the Ranken Jordan Pediatric Bridge Hospital parking lot in Maryland Heights.
When available, security surveillance video footage has shown thieves working in organized packs, many armed with handguns or other weapons, and have even been known to shoot at car owners if they are spotted. News stories flash across our TV screens nightly with stories about more car break-ins in the St. Louis area where groups of, mostly young men, drive through commercial areas, day and night, looking for opportunities. A handful then jump out and bust out car windows, quickly grabbing anything they can, including handguns, cash, laptops and tablets. If the car windows aren't being smashed, then the cars themselves are often times stolen.
We Have a Solution
If your business has been the victim of car break-ins and your employees or customers are in potential danger, please contact one of our PASS Security specialists who will meet with you, survey your site and determine the best plan of action and where to place our surveillance security camera trailer.
CONTACT US TODAY! to schedule a FREE consultation if you need a security trailer for your business parking lot in the St. Louis Metro Area, Central and Southern Illinois. 314-241-0422 or 618-394-1144.