Remote Security Cameras for St. Louis & Illinois
Solar Powered Mobile Security Camera Trailer. Remote Fixed Wireless Camera. Discreet Covert Camera.
View Live Video on Your Phone, PC or Tablet.
Protect Remote Properties from Vandalism & Theft

Perfect for Off-the-Grid Locations. Parking Lots, Outdoor Storage Facilities, Construction Sites, Utility Stations, Crime Hotspots.
We offer two rugged security camera solutions adaptable to virtually any environment or location.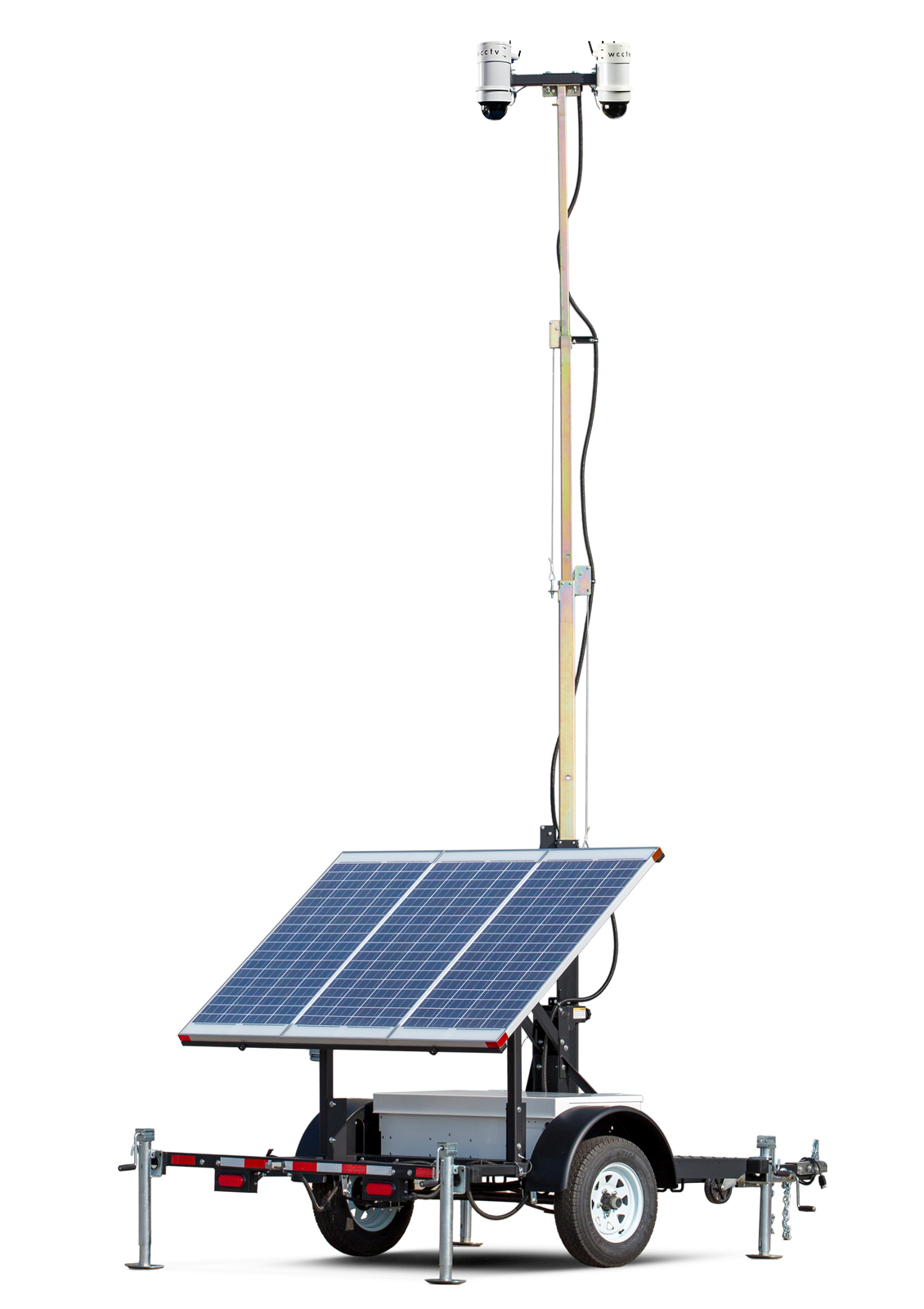 Mobile Solar Security Camera Trailer
No Electrical Hookup Needed
Entirely self-contained, deploy in less than 30 minutes
600 Watt solar panel with 8 AGM auxiliary batteries
Compact and easy to transport by car or truck
4G LTE, 3G, Wi-Fi connectivity
High-definition video with virtual 360-degree surveillance
Up to 4 IP cameras – choose from license plate camera, thermal, PTZ or time lapse
Remote camera configuration
Time-lapse video ready
Telescoping 20-foot camera pole for overhead visual coverage
Low light capability
IR capability
SMS & email alert notifications
On-board GPS Locators for peace of mind and video location verification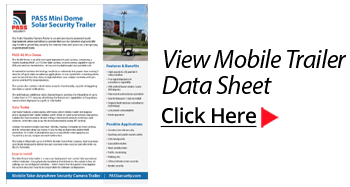 Customer Success Story!
"During an 18-month construction project at the Art Museum, PASS Security's mobile security trailer significantly reduced construction theft on our 15-acre site in Houston, Texas. In addition, the combined remote monitoring and advanced technology-assisted construction site management operationally by proactively notifying management of unplanned staff on-site surprises. Camera analytics thermal technology and its robust design made all the difference compared to other systems we've used." 
Brian Evetts, CEO Promontory Insights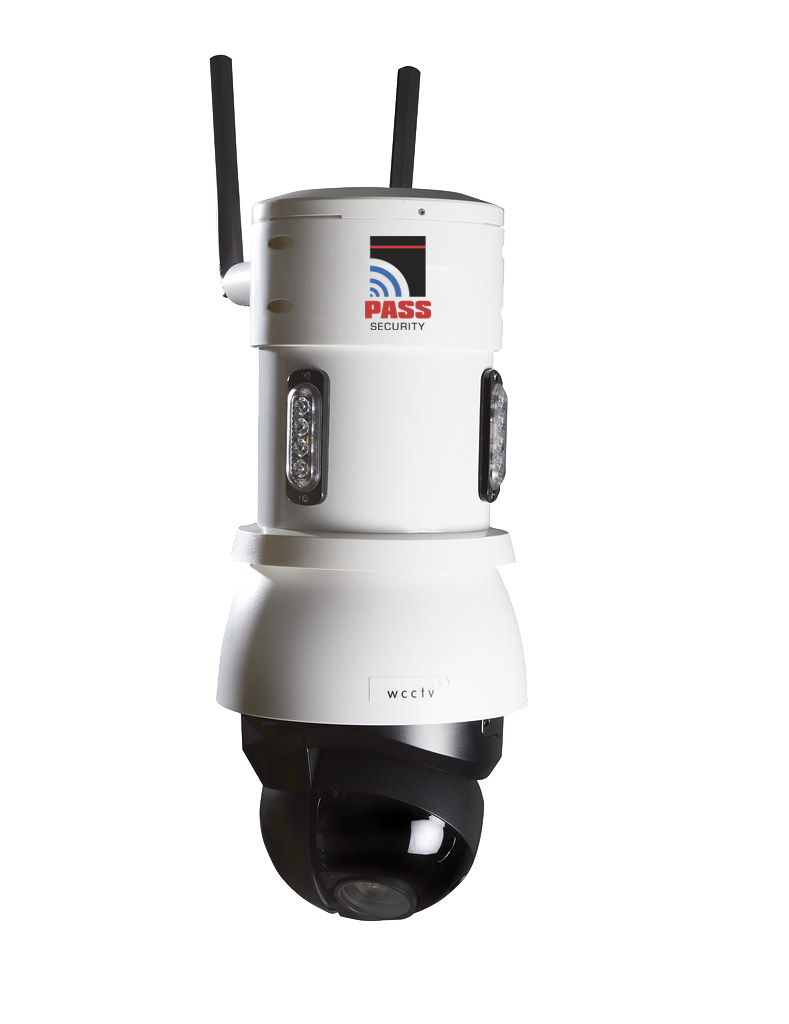 Remote Security Camera with Blue Light
Remote Viewing with Wi-Fi
Easy to install and easy to maintain
High definition video (up to 1080p)
4G LTE, 3G, Wi-Fi and IP connectivity
Remotely access live and recorded footage via smartphone, tablet, PC
Receive text & email alerts
Remote camera configuration
Up to 4TB internal storage
2MP day/night/IR camera
High-speed live streaming
Built-in auto-tracking camera presets
Low light capability
Advance video AI analytics
High-speed live streaming – up to 25 FPS
110 AC power or solar
Move from location to location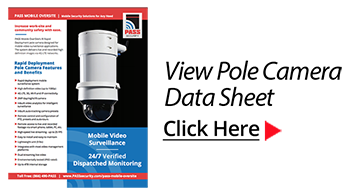 Place Pole Cameras & Mobile Security Camera Trailers Virtually Anywhere
PASS Security Remote Video Surveillance is ideally suited for off-the-grid and temporary locations throughout the St. Louis metro region, Central and Southern Illinois. Easy to transport, quick to deploy, wherever, whenever. No need to purchase, rent them on a monthly basis. 
Construction Sites

Critical Infrastructure

Parking Lots

Traffic Monitoring 

Airports & Inland River Terminals

Abandoned & Renovated Properties
Protect What is Rightfully Yours. Get a FREE Site Evaluation.
Call or email us today to get started!
Mobile 4G Covert Security Camera
Discreet Wireless Video Surveillance for Covert Operations
Our PASS Security Mobile 4G Covert Security Camera is a remote video surveillance camera disguised as a common utility box. Perfect for police drug sting operations, constriction site surveillance, parking lots, government buildings, hospitals, schools and more.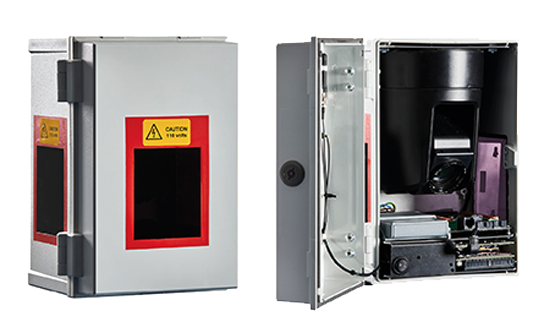 Another quality offering from PASS Security's Mobile Video Surveillance Division
High-definition PTZ camera (pan, tilt, zoom)
Night vision camera
Delivers LIVE video feed
Local recording capacity (up to 4TB)
Wireless transmission technology
Easy to install
Move from location to location
Mount to telephone or electrical light pole
Totally discreet, blends with the environment
Reduce police manpower
Perfect for crime hotspots, drug stings, illegal dumping, gang monitoring
Additional Business Security Solutions We Offer
Industries We Protect
We understand that each industry and business is unique. This is why we take the time to meet with our customers face to face, discuss their security concerns and conduct a site evaluation. Security technology is constantly evolving and improving, so communicating to you the benefits and options of different security components is critical. We are more than your business security provider, we are your security partner.