Panic Buttons for St. Louis & Illinois Businesses & Schools
Panic buttons give workers a true sense of control and security knowing that emergency responders are literally at their finger tips.
Duress alarm buttons can save lives. A fact documented by thousands of police reports telling how quick-thinking individuals have thwarted crimes in progress or violent workplace scenarios by simply tripping a panic alarm switch.
For St. Louis and Illinois business owners and employees, school staff and faculty panic buttons can make the difference between an uneventful day and a horrific day, the kind of day that makes news headlines and changes lives forever, for the worse.
A duress button (panic alarm button or duress panic switch) is typically a small, inconspicuous electronic device about the size of a doorbell, designed to activate an alarm, which then alerts emergency personnel of a security breach or other emergency situation. Most panic alarm buttons are hardwired but wireless duress alarm systems are also available. Even more conveniently and stealth, a panic alarm signal can be linked to a specific key on your computer keyboard so you don't have to move and call attention to your self.
Panic alarm buttons can also be linked to an offsite or onsite security monitoring center alerting security personnel. But not all duress buttons are silent. Some activate an alarm bell (like a school bell) or a siren that warns everyone in the building of an emergency situation.
Does your business need a duress alarm system installed or updated? Email Us today for a FREE security systems consultation, or call 618-394-1144 or 314-241-0422.
More sophisticated panic alarm systems can be linked to a closed-circuit television (CCTV) security camera system which records the incident in progress and video is displayed on a monitor where emergency personnel visually verify and evaluate the situation's level of danger to determine the best course of action.
What of Types Businesses Use Duress Buttons?
Duress alarm buttons are installed in a variety of commercial businesses and public buildings, including hospitals, restaurants, business offices, banks, schools, convenience and retail stores, government buildings, and many others.
Duress buttons have been responsible for saving countless lives in a variety of emergency situations: school shooter scenarios, attempted bank robberies, holdups at convenience stores and gas stations and hostage situations. They have also helped save lives by alerting first responders of a workplace medical emergency.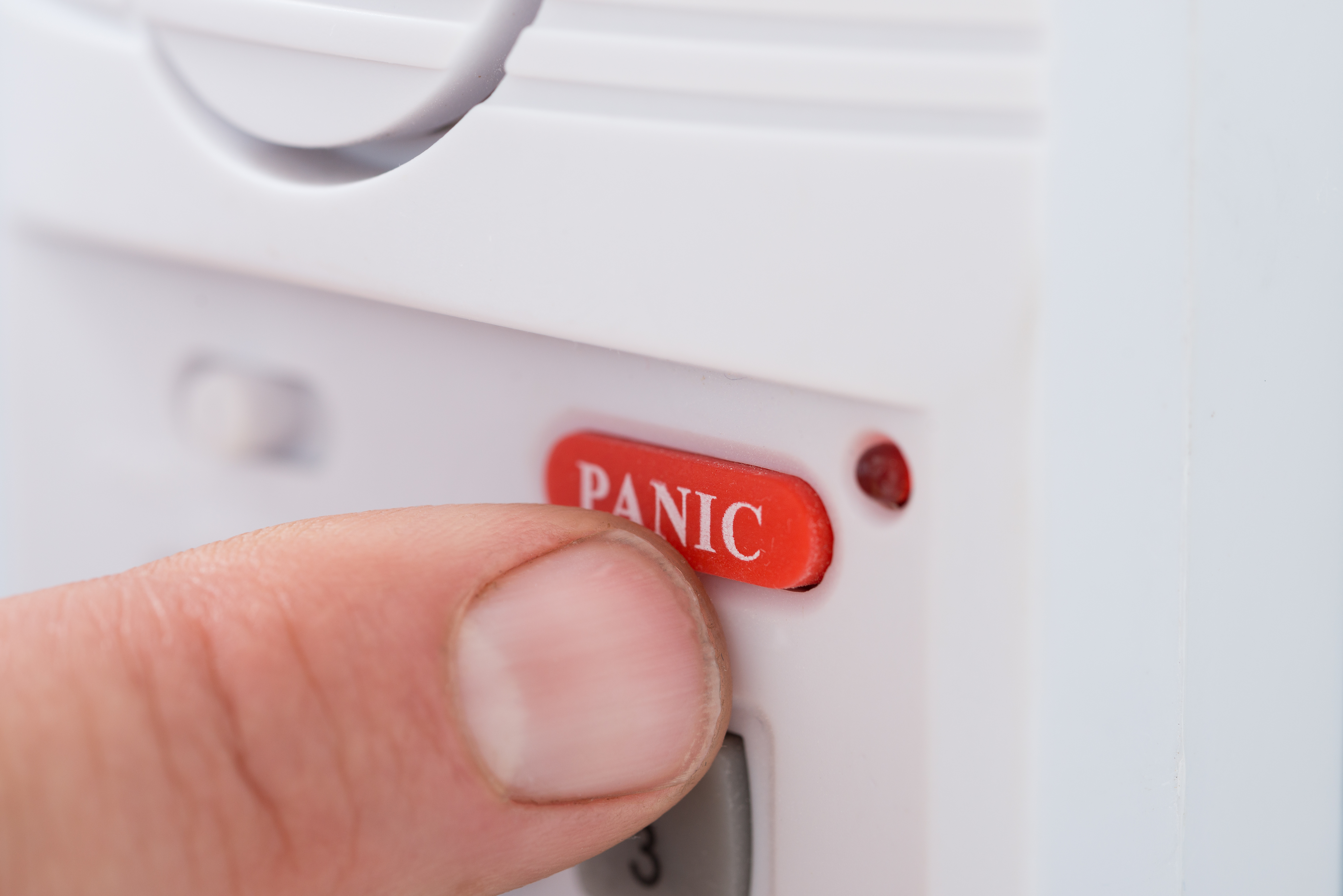 Installing a Duress Button System
Commercial businesses and schools should only hire professional local security companies to install duress panic buttons in inconspicuous but easily accessible locations. This is NOT a DIY project for the maintenance crew. PASS Security installs and services duress alarms in the Greater St. Louis Metro Area, and central and southern Illinois. Security camera installation, access control systems (smart door lock systems) and intrusion alarms are increasingly in demand as well for businesses in St. Louis City and County where crime rates are on the rise.
Do You Have an Emergency Response Plan?
First off, it is critical that all employees are taught how and when to activate the duress button.
Once the duress alarm button is installed, role play a dangerous scenario involving individuals authorized to activate the alarm and those designated as first point of contact upon arrival of security personnel, police, firefighters or EMTs.
Your action plan should also designate a person(s) to be in charge until help does arrive.
Does your business or school have a designated safe area? Is there food and water available in the event of an emergency that prevents workers, staff, customers, or students from leaving the premises.
The more detailed planning you do and establishing emergency protocols and procedures in the event the unthinkable does happen, the more likely your duress alarm system will prove lifesaving.
As a trusted local security company for more than 50 years, PASS Security has installed thousands of duress "panic" buttons in businesses and homes throughout the St. Louis Metro Area, Central and Southern Illinois, in addition to Access Control Systems, CCTV and  remote video surveillance security cameras.
Email Us today to schedule a FREE security systems consultation. Or speak directly with a security consultant by calling: 618-394-1144 or 314-241-0422.