Whether you're building residential or commercial in a crowded metropolitan area or you're off the grid and out in the sticks, protecting your jobsite, equipment and costly building materials is a constant concern. When your crew has packed up and gone, your construction site becomes an instant target for thieves and vandals. If a couple of guys are walking around your jobsite after the crew has gone home, no one is the wiser. Passersby, even police patrol cars don't know your schedule or who is supposed to be on jobsite, or when.
Your construction jobsite is a sitting duck for thieves and vandals, and they're out there, just waiting for that 3:30 whistle to blow so now they can go to work…on your site.
Building Materials Aren't Cheap – Don't Just Give Them Up
The cost of materials like lumber, copper wiring, plumbing supplies and tools, and heavy equipment are increasing every day and are sitting there for the taking, or for the destroying, once your crew leaves the site. Unless you have security cameras in place, you're setting the table for a thieves' feast.
Even the smallest construction jobsites need security protection. Either one camera in the middle, if possible, or two cameras diagonally across from each other. If it's a larger site, think about four cameras, one on each corner. You can never be too secure.
Best Security Cameras for Construction Jobsites
Not all cameras are created equal. Video surveillance security cameras for your outdoor jobsite need to be rugged, they may also need to be wireless and supplied with solar power. It depends on your power supply and location.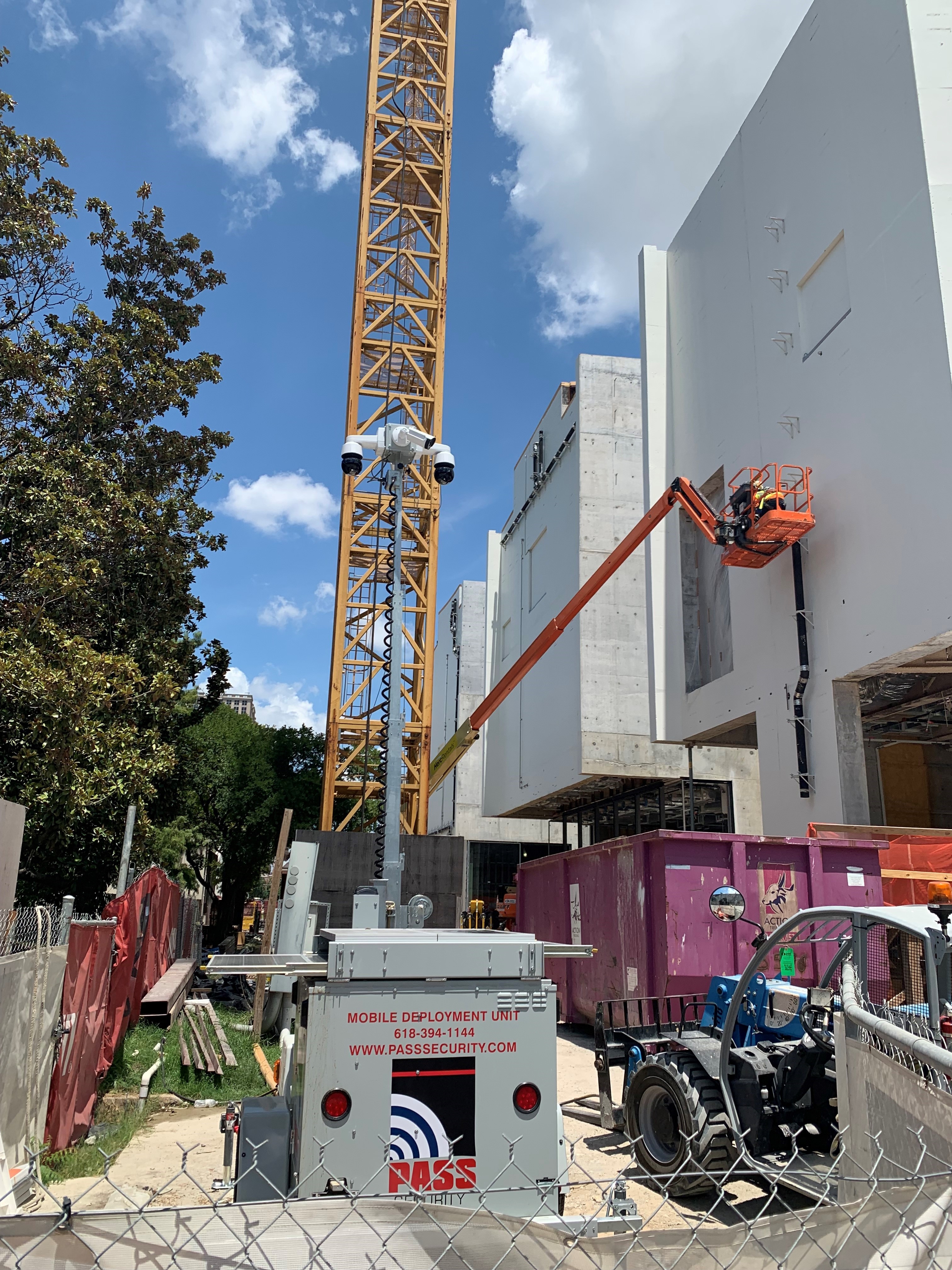 Your two best choices are a remote Video Surveillance Pole Camera or a remote a Mobile Security Trailer, each with the capabilities to record activity on your jobsite 24/7 when you're not there and also to feed video surveillance footage to a security monitoring station where dispatchers can see your site and alert police if people are on your job site and picking through your building materials like they're shopping at Home Depot.
How much does it cost to have security cameras on your construction jobsite, very little compared to making up the cost of your new $100,000 backhoe loader that has just been vandalized.
Protect What is Yours
Before the first shovel breaks ground on your next construction project, have a PASS Security expert work up a video surveillance security camera schematic so your valuable assets are covered from all angles, 24/7.
Contact us today if you would like more information about video security cameras for police departments and municipalities or receive a FREE consultation from a PASS Security expert. 314-241-0422 or 618-394-1144 or Email us.
Founded in 1969, PASS Security is headquartered in St. Louis, MO. and Fairview Heights, IL. We are a full-service electronic security systems integrator providing expertise in intrusion detection, video surveillance, access control systems, LIVE video monitoring for businesses, large commercial and enterprise operations. PASS also serves the residential sector with innovative SMART home automation products and services. We provide our customers with system design, engineering, installation, maintenance and monitoring services through our 24/7 local UL Listed Central Monitoring Station.