The city of St. Louis has over 6,000 apartment units in the planning and development stages or already under construction. A variety of talented and civic minded developers, builders, architects and investment groups such as Blackline Design & Construction, Screaming Eagle Development, Pier Property Group, Virescent Architecture & Design, Neighborhood Properties, Virescent Architecture & Design, The Opus Group and many others, are dedicated to the development of these properties ranging from modest to upscale. In a flurry of building and renovation activity, these mostly turn-of-the-century multi-family apartment projects are quickly dotting the St. Louis landscape from North Broadway's industrial area to Grand Center to South City, and all points in between.
A percentage of these former office buildings, warehouses and hotels that your parents and grandparents may have even worked at or stayed, are slated to be transformed into mixed-use properties, combining retail with open office space and residential apartments ranging from studios to three bedrooms, along with list of attractive amenities. There is no downside to these projects, nothing but positive for the city and particularly those seeking urban lifestyle choices in a city that boasts hidden architectural treasures in every part of town.
Proud to be a part of this building revolution, PASS Security offers an access control door hardware security system perfectly suited for new construction, reuse or repurpose building projects and historic retrofits for individual apartment units.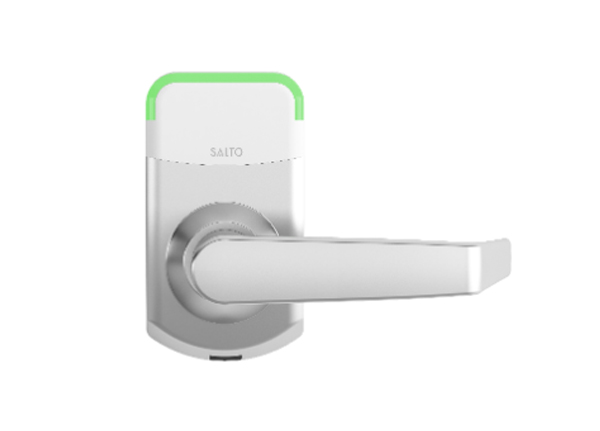 The Salto wireless door hardware locking system saves builders time and money, helping to keep building completion dates on schedule and budgets on track.
Because these door hardware locks are battery operated, they do not require hardwiring, thus saving an immense amount of installation time. Usage information from locks are captured and integrated into a central security system which audits the use of individual card holders, along with the added ability to cancel cards remotely, schedule specific times for card usage by subcontractors and visitors, and much more.
Learn more about our latest high-tech door hardware security offering from PASS Security and Salto, transforming the future of multi-family apartment construction in the St. Louis region. Also see our video surveillance cameras for multifamily apartment buildings.
Contact us today if you would like more information about Multi-Family security or receive a FREE consultation from a PASS Security expert. 314-241-0422 or 618-394-1144 or Email us.
Founded in 1969, PASS Security is headquartered in St. Louis, MO. and Fairview Heights, IL. We are a full-service electronic security systems integrator providing expertise in intrusion detection, video surveillance, access control systems, LIVE video monitoring for businesses, large commercial and enterprise operations. PASS also serves the residential sector with innovative SMART home automation products and services. We provide our customers with system design, engineering, installation, maintenance and monitoring services through our 24/7 local UL Listed Central Monitoring Station.