In PASS Security's never-ending quest to help business owners fight property crime, theft and vandalism, we introduce ELECTONIC GUARD. Always on the cutting edge of security technology, PASS Security offers business owners a security system that is quickly transforming outdoor security video surveillance from simple static "recording" camera devices into "live action" monitoring security camera systems designed to catch criminals "in the act." Video verification can also be seen on a variety of personal devices, including office and home computers, tablets and even mobile phones, as illustrated in this photo.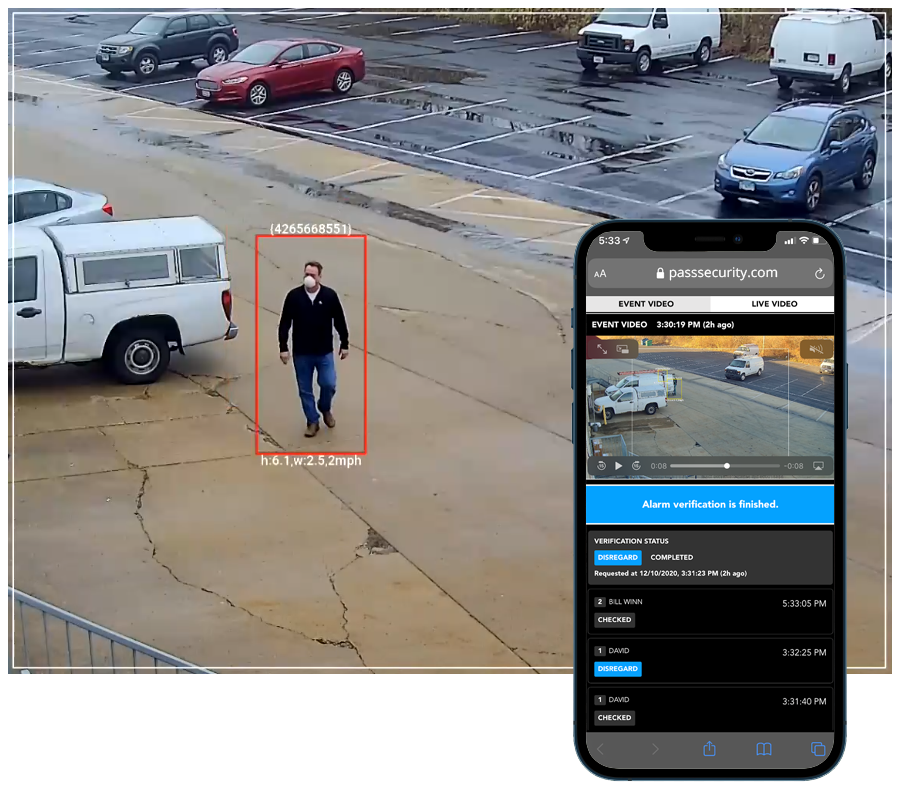 PASS's Electronic Guard system uses military-grade, advanced video AI and thermal technology to identify and capture people and cars (intruders) on a monitoring screen for visual verification so police or other security personnel can be immediately dispatched as a top-priority response call. Electronic Guard is the best security video camera system to date for commercial businesses, potentially saving property owners thousands of dollars in otherwise stolen inventory, insurance claims and vandalism repairs.
Informative article about Access Control Systems for businesses.
Contact us today if you would like more information about our outdoor security systems for commercial businesses or receive a FREE consultation from a PASS Security expert. 314-241-0422 or 618-394-1144.
Founded in 1969, PASS Security is headquartered in St. Louis, MO. and Fairview Heights, IL. We are a full-service electronic security systems integrator providing expertise in intrusion detection, video surveillance, access control systems, LIVE video monitoring for businesses, large commercial and enterprise operations. PASS also serves the residential sector with innovative SMART home automation products and services. We provide our customers with system design, engineering, installation, maintenance and monitoring services through our 24/7 local UL Listed Central Monitoring Station.