The definition of Access Control is in the name itself: The idea is to establish security components that control who has access to your business, facility, parking lot, outdoor site, individual room or even a storage cabinet door or drawer. It is up to you. You are in control.
Whether the person is a loyal employee or a visitor, contractor, customer, business associate, delivery person, or someone who does not belong in your business at all, the job of Access Control is to block the access of certain people, at specific places or entrances at specific times, or all the time.
Access Control can be tricky and sometimes confusing because there are two different kinds of Access Control in the world of security: 1) data Access Control 2) physical Access Control. As you might imagine, data Access Control deals with the virtual world; blocking access to sensitive data and information, login IDs, passwords, and so forth.
What is a Physical Access Control System?
Access control systems are not new, but their technology has advanced dramatically over the years.
There are a variety of access control system features which allow employee and visitor access to your business using a card (swipe card) system, pin pad with unique pin code, key fob, remotely by a mobile device, biometric scanning, intercom and videocom. Only authorized individuals are allowed access to your building, and depending on how your access control system is programmed, you are able to track which areas of their building or complex they enter, which doors they use, and more, and all this data can be safely stored in a cloud based access control data base.
The beauty of an Access Control security system is their flexibility and scalability.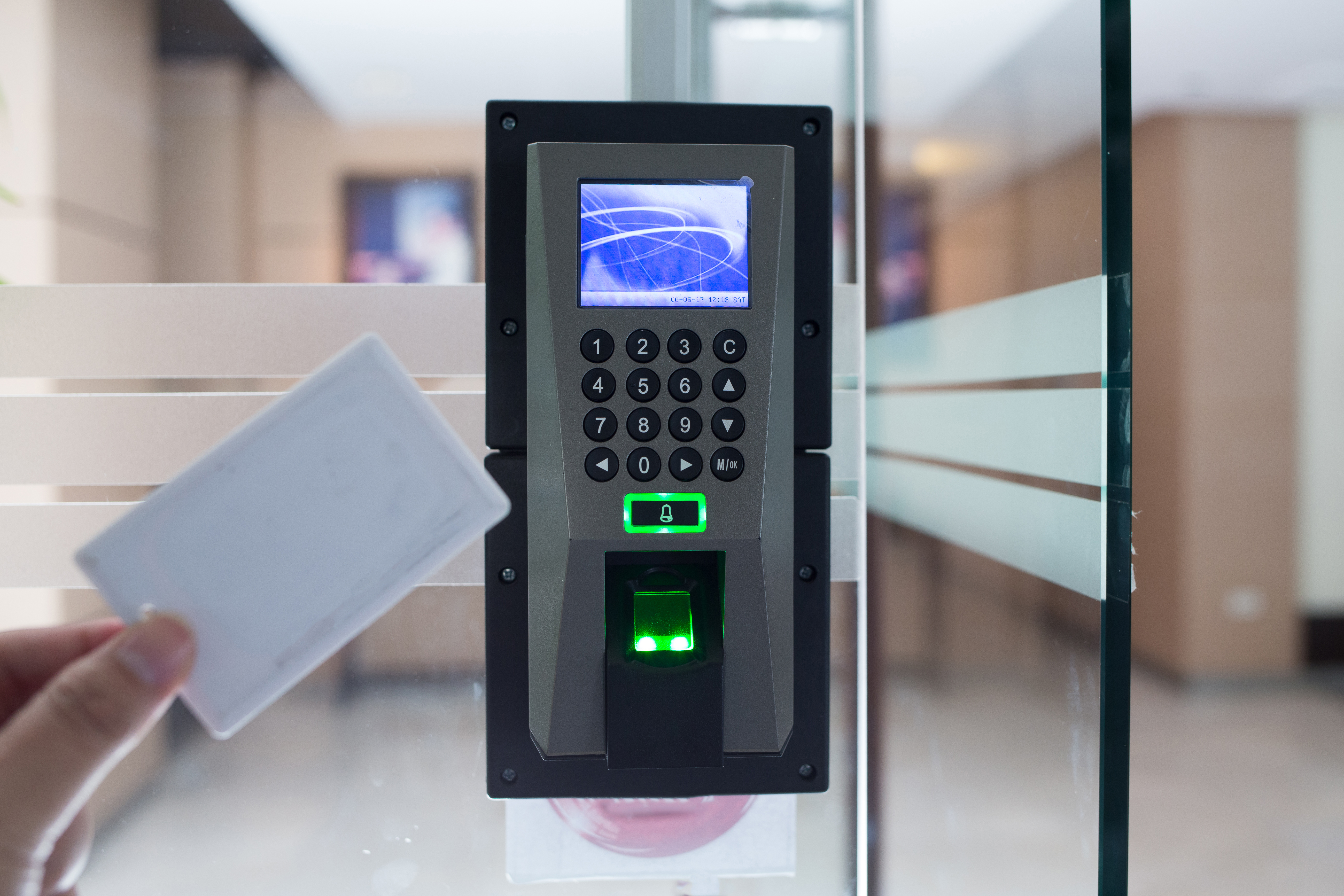 To Key or Not to Key
Look at mechanical keys this way—which by the way have been in existence since arguably the 6th century—and considered to be the very first Access Control system. Not counting one of our ancestors rolling a boulder in front of a cave entrance.
The Trouble with Keys
Many smaller business owners still use mechanical keys to get into their business. Tradition is hard to part with, but as you already know, there are inherent problems using mechanical keys, and potentially even bigger problems when it comes to trusting the person you just entrusted with the key.
Keys are difficult to manage – We've all seen the building superintendent carrying around 50 keys and fumbling through each one every time he tries opening a door. Don't be this guy.
Who gets a copy and who doesn't? How many copies do you really need? Copies are hard to trace, virtually impossible, and they're lost all the time. Former employees keep them just out of spite if they've been let go (fired). Hope they're not holding a grudge. Oops! Time to rekey the door!
Keys don't leave an audit trail – Unlike Access Control cards, keys don't leave an audit trail packed with information about the card's user: when they arrive, when they leave, what doors or buildings they accessed. Access Control systems are a great way to learn a lot more about your business and your employees, visitors, and whomever else you are attempting to manage.
The Last Line of Defense
Most importantly, Access Control systems keep out those who don't belong; a proven, high-tech security measure that cannot be under valued in today's society.
Imagine the worst, a workplace live shooter scenario in your business. It's hard to imagine, but it's a reality played out in the news virtually every day. And since your employees have probably not undergone Live Shooter Training, an Access Control system is your next best defense.
Take Control & Increase Your Building Security
The choice is yours. Or are you satisfied with fumbling with keys (remember the super?), or not knowing who has a copy of which key and who doesn't, and are they still an employee or not?
You might want to think twice before firing the next employee, at least ask them for their key before you hand them their brown box.
Contact us today if you would like more information about how to make your business safer and more secure and receive a FREE consultation from a PASS Security expert. Call today! 314-241-0422 or 618-394-1144.
Founded in 1969, PASS Security is headquartered in St. Louis, MO. and Fairview Heights, IL. We are a full-service electronic security systems integrator providing expertise in intrusion detection, video security camera surveillance, access control systems, LIVE video monitoring for businesses, large commercial and enterprise operations. PASS also serves the residential sector with innovative SMART home automation products and services. We provide our customers with system design, engineering, installation, maintenance and monitoring services through our 24/7 local UL Listed Central Monitoring Station.