With a quantifiable increase in crime across the United States, and yes, even in the St. Louis Metro Area and Illinois communities, the number of commercial businesses concerned about thefts and break-ins and searching for preventative security solutions is coincidentally also on a dramatic rise. It's not enough to run a business anymore, now business owners are saddled with fighting crime on their home turf to protect their businesses.
One of the first things business owners who are seeking a security solution for their business search for online is "best video surveillance security camera system." We get this question every day.
In short, the most reliable and latest in technological innovations is the Avigilon security camera system. Avigilon is a division of the long-trusted global security electronics company, Motorola. A trusted name with police and fire departments nationwide for decades.
What is a Video Surveillance System?
Many people think of a video security surveillance system as a standalone static camera recording any and all events. Some of these systems operate on a continuous recording loop so when there is a security breach or incident, the business owner is forced to watch hours and hours of video to try and identify the exact moment of the crime and perpetrators.
Fortunately, in the last several years video surveillance camera systems have evolved dramatically, making them much more reliable and streamline because of advanced software artificial intelligence video analytics that can identify and isolate thieves and vandals on camera (literally draw a red box around them), distinguishing them from inanimate objects, passing cars, animals, etc., which often result in false alarms.
A basic video surveillance camera system, closed circuit television (CCTV), is comprised of a configuration of security cameras, wireless or hardwired, monitoring display units and recording devices. Monitoring displays can be high-resolution allowing the operator to zoom in on the image and track a person or other object. Camera choices include analog or digital, with a long list of possible features (a topic we'll explore in a future article). Video surveillance security systems can be both exterior and interior, monitored 24/7, record continuously or configured to record only in response to movement when the system is tripped and there is an alert. Video surveillance systems can also be configured with your Access Control system.
Where to Place Security Cameras at Your Business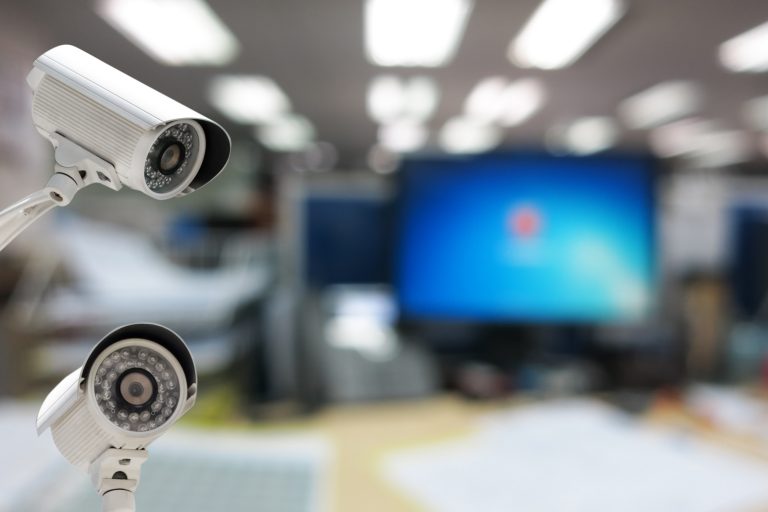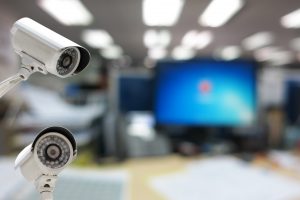 Common uses for surveillance cameras is for securing business property perimeters or fence lines, monitoring traffic, obtaining footage of human activity for any number of reasons. Camera placement is a key part of the strategy. Some business owners choose to locate cameras in conspicuous places, in full view of everyone in order to help to deter crimes. Others choose to conceal or hide cameras so they can covertly and discreetly record evidence, minimizing the opportunity for the cameras to be tampered with. Whichever strategy you choose, as a business owner, placing cameras inside your place of business means adhering to certain regulations controlled by the state, so be sure to check with the state of Missouri or Illinois about where security cameras can be placed in regards to these regulations and the protection of employee privacy.
Monitoring Surveillance Video Footage
Video footage from your surveillance system can be monitored live by an onsite security guard or other security personnel, also monitored remotely by an independent security monitoring company like PASS Security offers its customers. Typically, all video footage is recorded and stored on a DVR (digital video recorder) or NVR (network video recorder) and available for review at any time.
Some video surveillance systems are designed to be "closed," meaning their signals are not broadcast for others to intercept and view the content. Only authorized users have access to recorded footage. Even with the increase in cloud-based surveillance systems, IP (internet protocol) cameras offer end-to-end encryption along with additional security features like two-factor authentication and single sign-on that enables the latest security standards.
Lastly, these systems can now be operated remotely, by computer, tablet and even on your smartphone, giving you the ability to view live video of each camera and even have alerts sent to you when there is a security breach at your business. This gives business owners the ability to monitor suspicious individuals inside or outside your place of business, or even use License Plate Recognition (LPR) capabilities to track vehicles that may have been involved in an incident. The license plate information is stored in a database and gives the operator the ability to track the vehicle anywhere it crossed in front of one of the cameras. The information can also be stored in a nationwide database so law enforcement officials can track the vehicle from city to city. This security tracking method is used by municipalities and police departments to solve crimes that may have originally occurred in a city hundreds away.
Security camera surveillance systems are extremely sophisticated these days and they will continue to "get smarter" with the continuous advancement of security software and hardware technologies. With this in mind, it is a smart idea for business owners to employ a certified security integration company with years of commercial experience to design and install your security surveillance camera system. Know what you are getting upfront and ask a lot of questions. You are not only asking "what are the best security cameras" but "who are the best security surveillance companies." A knowledgeable and experienced security provider will welcome your concerns and be only too happy to put your mind at ease and answer any questions you may have.
All business owners need to read this informative article about how to protect their businesses.
Contact us today if you would like a FREE consultation on a video surveillance system for your business. 314-241-0422 or 618-394-1144.
Founded in 1969, PASS Security is headquartered in St. Louis, MO. and Fairview Heights, IL. We are a full-service electronic security systems integrator providing expertise in intrusion detection, video surveillance, access control systems, LIVE video monitoring for businesses, large commercial and enterprise operations. PASS also serves the residential sector with innovative SMART home automation products and services. We provide our customers with system design, engineering, installation, maintenance and monitoring services through our 24/7 local UL Listed Central Monitoring Station.