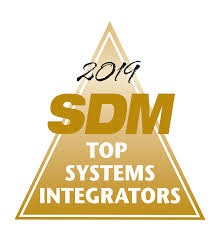 PASS Security was formally recognized in 2019 by Security Distributing and Marketing (SDM) for its continued market growth in the St. Louis region and throughout Southern Illinois and Eastern Missouri as a top producing security systems integrator provider for commercial clients.
The announcement was featured in SDM magazine's "Top Systems Integrators Report," July 2020 issue.
PASS's notable 42nd place ranking in a field of the Top-100 security companies nationwide is due to its continued growth and expansion in the St. Louis region's healthcare and education industries, and critical infrastructure.
"As technology continues to evolve, including the integration of cloud-based solutions, and business clients seek more sophisticated levels of security, we have experienced tremendous growth in our region's commercial business sector," said PASS Security co-owner, Brian Sullivan.
"This is not only a sign of the times, but a testament to the top-tier products and services we offer our valued clients. From five employees to 5,000, each of our customers receive the same professional industry expertise and superior customer care from PASS Security team members, which has fueled our growth as a trusted security systems integrator and video surveillance provider for both business security systems and residential security systems security clients for more than 50 years."
SDM recognizes security companies nationwide for their North American revenue directly involving Security Systems Integration projects, which can include design, project management, product installation, programming, start-up, training, and time-and-materials-based services sold directly to an end-user or through a tier of contractors. In scope, these can involve security alarms, perimeter security, electronic gate entry, intercom/communications, IT/networks, etc.
For the past 11 years, PASS Security has proudly ranked nationwide in Top-100, U.S. based Security Systems Integrator security companies.
Founded in 1969, PASS Security (PASS) is a full-service electronic security systems integrator providing expertise in intrusion detection, video surveillance, and access control systems for businesses and commercial operations. PASS also serves the residential sector with innovative SMART products and services. We provide our customers with system design, engineering, installation, maintenance, and monitoring services through our 24/7 local UL Listed Central Monitoring Station.
We proudly serve the greater St. Louis region, Eastern Missouri and Southern Illinois.
Contact us today for a comprehensive security systems consultation.