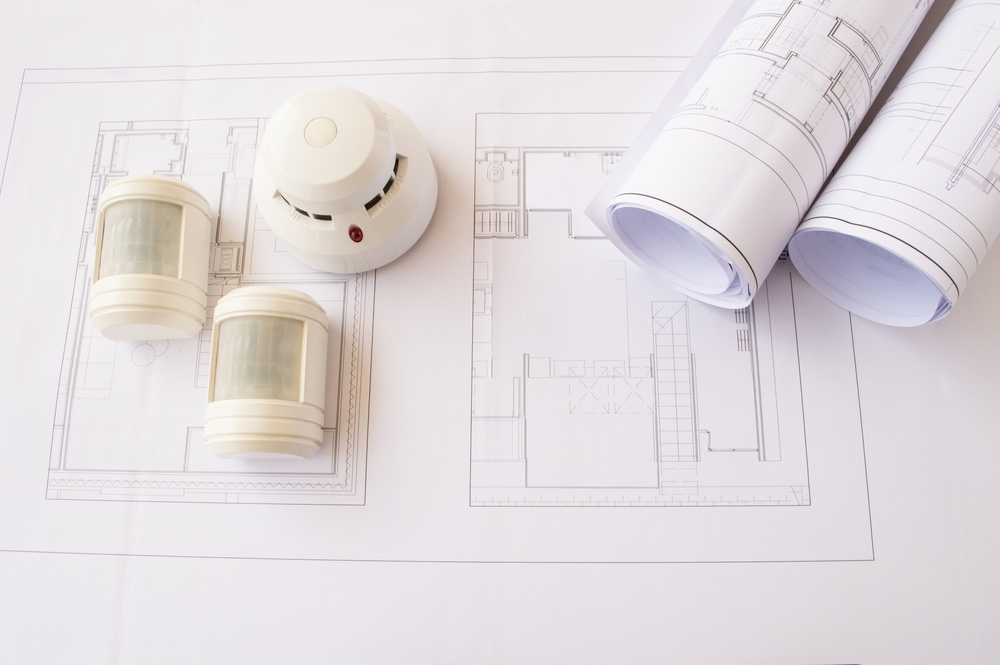 One of the most effective ways to protect your St. Louis area business from after-hour break-ins, theft and vandalism is with a burglary and intrusion alarm system. An alarm system not only protects your inventory and assets, but it helps make your employees and visitors feel safe. It can be beneficial to learn how an alarm system as a whole works and how each of the components (like motion detectors and glass break sensors) work to keep your business safe and secure. Read on to learn more about commercial burglary and intrusion alarms and help take charge of your business security.
How Burglary & Intrusion Alarm Systems Work
Burglary and intrusion alarm systems are made up of many different elements that work together to monitor for, and alert you to the presence of intruders. Some of the main elements used in commercial systems include:
Door/window sensors – These particular sensors work using magnetic connectors. One sensor containing a magnet is placed on a door or window and the other on the adjoining sill or frame. When the sensors are touching (and the system is armed) it registers a particular door or window as being secure. The alarm is triggered when the door or window is opened and the connectors are separated.
Glass break sensors – Glass break sensors use a microphone to listen for the specific sound frequency that glass produces when it breaks. Once the frequency is picked up, the alarm is triggered.
Motion detectors – Motion detectors can use vibration, ultrasonic waves, microwave pulses, and infrared heat to check for movement in a given space. Since the range and capabilities of motion detectors can vary greatly, it's important to choose ones that are properly suited to the dimensions and needs of your facility.
Keypad – The keypad is where you arm/disarm your alarm and perform other programmable functions. It connects to the other system components using either a hard-wired or wireless connection.
Control panel – The control panel is the brain of the alarm system. It receives and processes signals from all of the devices in the system. In most facilities, the panel is installed somewhere like a closet or utility room so it is hidden from people who may want to tamper with it.
All of these elements work together to form a comprehensive alarm system that keeps your business safe from potential intruders.
Burglary & Intrusion Alarms with PASS Security
When you choose to protect your business with an alarm system from us, you get more than just an alarm system, you get a security partner who is there to help at each step of the way – from planning to installation to monitoring. Our experienced sales team will work with you to create an alarm system tailored to meet the unique security needs of your business. We use equipment from some of the most respected and honored security product vendors in the industry in our security systems. Upon installation, our technicians will walk you through various aspects of the system and answer any questions you might have. Your relationship with PASS doesn't end once the system is installed. All of our systems are monitored 24/7/365 by our locally operated, state-of-the-art UL listed, Central Station.
Contact us today if you would like a FREE consultation on a video surveillance system for your business. 314-241-0422 or 618-394-1144 or Email Us.
Founded in 1969, PASS Security is headquartered in St. Louis, MO. and Fairview Heights, IL. We are a full-service electronic security systems integrator providing expertise in intrusion detection, video surveillance, access control systems, LIVE video monitoring for businesses, large commercial and enterprise operations. PASS also serves the residential sector with innovative SMART home automation products and services. We provide our customers with system design, engineering, installation, maintenance and monitoring services through our 24/7 local UL Listed Central Monitoring Station.