St. Louis Top Crime Stories is a continuously running crime roundup featuring high-profile crimes in St. Louis City, St. Louis County, St. Charles County, Jefferson County, other surrounding Missouri counties and certain Illinois counties and communities on the St. Louis Metro East Side.
Is it not possible to feature ALL crimes reported in our area so we focus on high-profile, "Page One" trending crime stories of most concern to residents and business owners in the general St. Louis area.
Launch date for this feature was March 13, 2023, so we are currently in the process of adding a backlog of several notable crime stories from the past year.
New crimes are added each week, so bookmark this page and check back for the latest crime-related news.
---
Top St. Louis Crime Stories
Woman Shot in Head by Attacker in St. Peters Schnuck's Parking Lot
ST. PETERS, March 4, 2023– A 52-year-old woman was shot in the head by a would-be robber in a St. Peters Schnuck's parking lot at approximately 8 p.m., March 3. The Schnuck's store is located at Jungermann Rd. and Hwy 94.
The woman was violently assailed by a man while she was seated in the passenger side of her car as her husband loaded groceries just a few feet away in the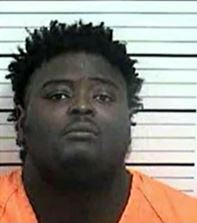 back of the car. Apparently, the assailant pulled up near the woman's car, jumped out of his Avis rental SUV and opened the women's passenger door and tried stealing her purse.
The woman struggled with her attacker until he pulled a handgun and shot her in the head, hitting her in the ear, the bullet exiting her jaw.
The man fled and when police and paramedics arrived on the scene the woman was in critical condition and rushed to a nearby hospital. Her prognosis from doctors at the hospital attending her was positive and she is expected to survive.
Police were able to lift one of the fingerprints of her attacker from the woman's car and have identified him as Tyrone Miller, a suspect in a number of other similar criminal cases. The rental car Miller used in the robbery shooting was eventually found abandoned in East St. Louis.
UPDATE 3-14-2023: Tyrone Miller, 24, turned himself in to the police several days after the incident and the police charged him with assault, robbery and armed criminal action. He was being held on bond at the time of this update.
Other sources: Fox 2 News, STL Post-Dispatch, 5 On Your Side.
---
Teenage Volleyball Player Hit by Speeding Car – Loses Both Legs
St. Louis City Circuit Attorney, Kim Gardner, Pressured to Resign
DOWNTOWN ST. LOUIS, February 20, 2023 – On the evening of February 18, 2023, Janae Edmondson, a high school volleyball player visiting from Tennessee for a tournament,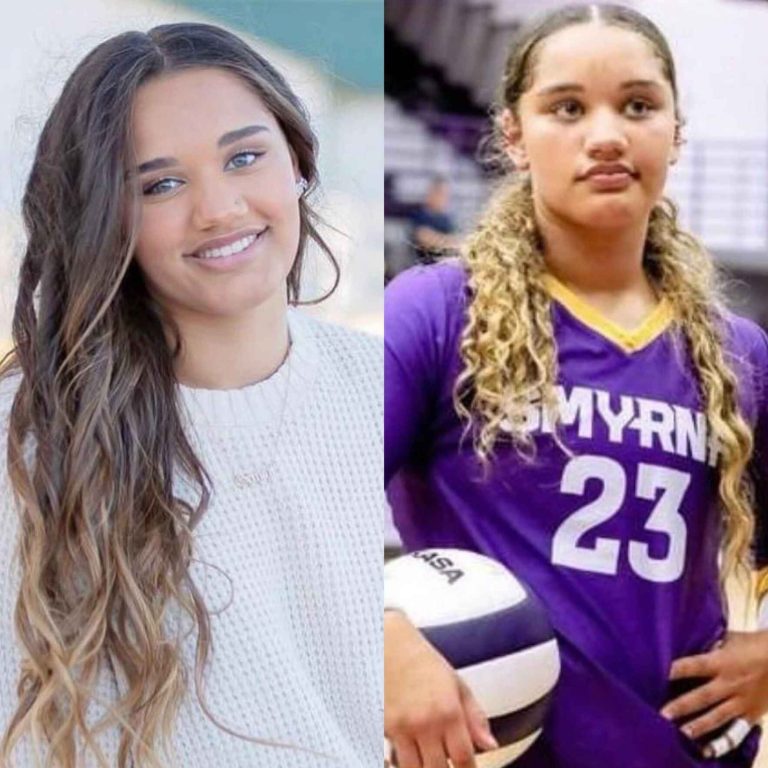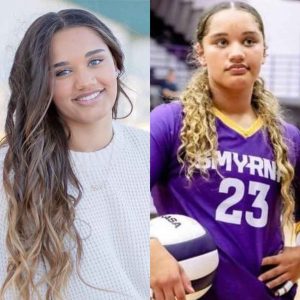 was violently injured when the driver of a speeding car, an Audi Q5, ran a yield sign on St. Charles St. in Downtown St. Louis and crashed into a parked Malibu, sending it airborne and hitting Edmondson, pinning her against another car and crushing her legs.
The horrific incident occurred when the 17-year-old star volleyball player, on the cusp of signing a volleyball scholarship offered by the University of Tennessee Southern, was walking with her mom and dad back to their motel.
In the immediate aftermath of the crash, her military-trained father desperately wrapped tourniquets around his daughter's hemorrhaging legs to minimize the bleeding as they frantically waited for emergency personnel to arrive on the scene.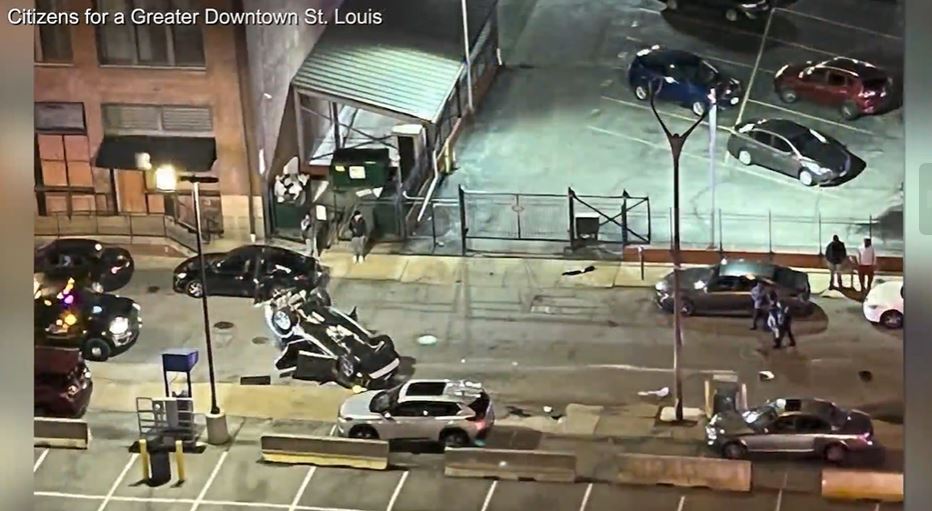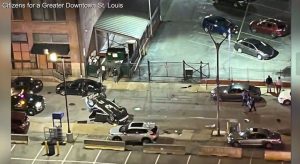 Citizens for a Greater Downtown St. Louis shared a video of the crash with news organizations. (right)
The force of the crash was so violent it crushed both of Edmondson's legs so severely that doctors at SSM Health St. Louis University Hospital, where she was rushed, elected to amputate them during a life-saving operation.
After an extensive stay at SSM Health SLU Hospital, Edmondson returned to her hometown in Tennessee for recuperation and what will undoubtedly be years of physical therapy and dealing with the psychological trauma caused by the needless, unfortunate incident.
At the time of the accident, the unlicensed driver of the speeding Audi, Daniel Riley, was out on bond on a 2020 armed robbery charge but officially under house arrest and was not supposed to be on the street. Court records showed that Riley had repeatedly violated his court-ordered house arrest multiple times, including the night he hit Edmondson and changed her life forever.
A Failing of the Court System or The Circuit Attorney's Office?
In the summer of 2020, Riley, 21, was scheduled for trial in an armed robbery case in St. Louis court by city prosecutors from the St. Louis City Circuit Attorney's office, managed by Circuit Attorney Kim Gardner. Apparently though, St. Louis City prosecutors dropped the case and then refiled it because they claimed the victim in that case had died before the trial began, so prosecutors needed to regroup.
But a judge's order from the day the case was dropped shows the victim Riley robbed at gunpoint actually was alive and even present for the hearing, and that prosecutors were not ready to proceed.
It is presumed that if Riley had been properly tried and found guilty during that trial he would most likely had been sent to prison and the resulting car crash that severed Janae Edmondson's legs might never have happened.
Riley was arrested though by St. Louis City Police the night of the car crash that nearly killed Edmondson and charged with three counts of assault, armed criminal action and operating a vehicle without a valid license. Police allege he was driving 45 miles per hour, 20 above the speed limit, when the crash happened.
Money Raised for Janae Edmondson's Recovery
A GoFundMe account has been created to help the Edmondson family with medical expenses. More than $759,000 has been raised. Please click the lick to make a donation.
---
Circuit Attorney Kim Gardner Under Fire After Edmondson Incident
As a result of the alleged mishandling of Daniel Riley's trial in 2020 and the subsequent car crash that almost took Janae Edmondson's life, the spotlight has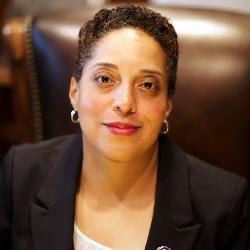 turned on Gardner and her office, which is currently drowning under thousands of backlogged criminal cases submitted to her office that have either not been properly reviewed or taken to trial.
This is not the first time St. Louis Circuit Attorney Kim Gardner has been embroiled in controversy. (more on this in another story.)
Experts knowledgeable of the circuit attorney's office, including former city prosecutors who served in Gardner's office, have said that the office is overloaded and cases are not being reviewed or tried in a timely manner.
Apparently, some city prosecutors have even dropped charges against accused criminals only to turn around and refile their cases for a later trial date because they were not properly prepared for the original trial (much in the same manner as the Riley case). This delay tactic includes a number of murder cases over the last year, according to the Post-Dispatch.
Kim Gardner's office has been observed by those familiar with her office to be what they describe as "in total disarray," and now is now crippled by a backlog of over 3,000 untried and unreviewed criminal cases piled in her office.
The St. Louis Metropolitan Police Department says the number of criminal cases they've submitted to Gardner's office is closer to 4,000.
Circuit Attorney's Office Woefully Understaffed – Prosecutors Keep Leaving
Attorney Kim Gardner took office as the St. Louis Circuit Attorney in 2017. Since taking office, dozens of city prosecutors have left her office citing various reasons.
Of the 58 city prosecutors serving in the Circuit Attorney's Office in August 2016, while still under the leadership of former St. Louis Circuit Attorney, Jennifer Joyce, a more litigiously assertive prosecutor, only 30 prosecutors remain. Almost half.
The latest to exit Kim Gardner's office is Marvin Teer, a former St. Louis City Court Judge who joined Gardner's office as her chief trial assistant less than two years ago. Teer recently announced his decision to resign his position at the end of March 2023.
Teer's surprise announcement came shortly after the public outcry surrounding the Edmondson tragedy and amidst growing public demands by local civic and business leaders, and politicians for Gardner to resign her position as the St. Louis Circuit Attorney.
Missouri Attorney General Files Suit Against St. Louis Circuit Attorney, Kim Gardner
The state of Missouri's Attorney General, Andrew Bailey, filed a "quo warranto" suit on February 23 to remove St. Louis Circuit Attorney Kim Gardner from her office, after she refused Bailey's request to voluntarily resign her position as of noon February 23.
The attorney general's suit cites St. Louis Circuit Attorney, Kimberly Gardner, with failing to:
prosecute cases that are pending in her jurisdiction
confer and inform victims of the procedural posture and ultimate disposition in criminal cases
and that she has neglected her duties by failing to charge new cases referred to her by the St. Louis Metropolitan Police Department
Gardner's case will be presided over by Eastern District Missouri Court of Appeals Judge, John P. Torbitzky.
St. Louis Citizens and Business Leaders Express Anger and Frustration with St. Louis City's Unchecked Rampant Crime Problem
St. Louis citizen, civic and business groups outraged by the escalating crime in the City of St. Louis, and what they cite as the city's inability to effectively fight spreading crime, have been speaking out and vocalizing their frustrations with the city, Gardner and the damage all of this is having on St. Louis'.
Action groups like Citizens for a Greater Downtown St. Louis and Greater St. Louis Inc., have been publicly outspoken about city's unmanageable crime problem and are demanding something to be done to mitigate rampant crime they believe is driving residents and businesses out of the City of St. Louis.
(More on this in another story.)
See related St. Louis City Neighborhood Crime listing for details about rising crime in the City of St. Louis
---
Surveillance Security Cameras for Your Business

Schedule a FREE On-Site Security Evaluation Today!
Gunfire Shatters Window at Downtown Urgent Care
DOWNTOWN ST. LOUIS, March 16, 2023 – More random gunfire in Downtown St. Louis shatters windows at a Downtown Urgent Care in the 900 block of Olive St. and the adjacent Bailey's Range restaurant, which has been temporarily closed for some time. The shooting occurred March 15, sometime after 2 a.m.
St. Louis Metropolitan Police Department is currently investigating. There are no suspects at the time of this post.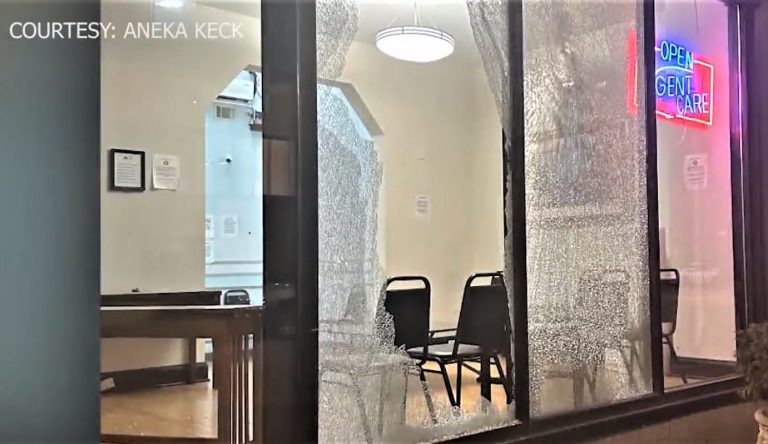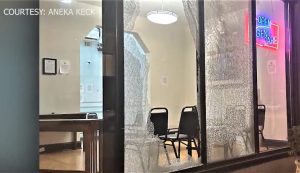 Nearby residents are calling for more security cameras and a higher police profile downtown, especially at night. Residences say that the Bell Lofts, above Bailey's Range, have been the cause of concern because parties at the short-term rentals have been associated with gunfire.
Other St. Louis downtown luxury lofts have fallen under scrutiny over the last several years because of similar incidents, including loud parties, shootings and other disturbances.
The Ely Walker Lofts at 1520 Washington Avenue, just over a block from the City Museum, was the scene of a fatal shooting March 12, 2022, in which a 16-year-old was shot dead in the lobby of the building as he let people in for a birthday party taking place in one of the short-term rental apartments. The apartment had apparently been rented via a short-term rental website.
A number of complaints have been made about certain downtown lofts being rented out for short-term use on websites such as Airbnb. Apartments are often rented for loud parties that often get out of control and disturb long-term residents in the same building and in nearby lofts.
In one case, partiers took to the streets and started dancing on top of a St. Louis City Police patrol car. Backup patrol cars were called to help disperse the crowd. Unidentified gunshots were later heard in the area as partiers continued to wander the streets.
Business and civic groups such as Citizen's for a Greater Downtown St. Louis have become increasingly vocal calling for changes to be made to make downtown St. Louis safer for residents, business owners and visitors.
In 2021, they launched a petition campaign to create a New Downtown St. Louis Improvement District (CID) and a Better Downtown.
Sources for this report include: the St. Louis Post-Dispatch, Fox 2 News.